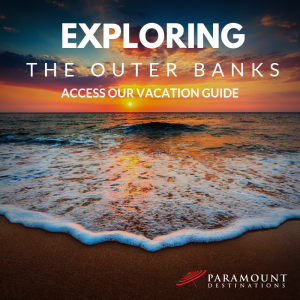 Corolla, NC is an amazing village located on the Outer Banks or North Carolina. This beach community offers so many interesting things to do for visitors of all ages! Whether you're looking for adventure outdoors or a fun time in the shopping district, there is something for you here!
Be sure to leave plenty of room in your schedule during your next vacation. Read on to learn about all the fun things to do in Corolla, NC.
Be sure to check out our Vacation Guide for more attractions to include in your epic OBX itinerary.
Fun Things to Do in Corolla, NC
Explore
Climb the Currituck Beach Lighthouse
There are so many ways to explore Corolla, NC. From climbing to the top of the Currituck Beach Lighthouse to checking out the live music scene, we are excited to share a few of our favorite places to learn, explore, and grow. The opportunities for education and history abound.
Go Shopping
Corolla Light Town Center
Monterey Plaza
Do you love to go shopping? Live for finding the perfect deal? Shopping is a great way to pass the time when you're on vacation. It's fun to see all the different shops, and sometimes you can grab a great souvenir that you can't get anywhere else!
We guarantee that shopping in Corolla is fun and vibrant! There are some great shopping locations, like Timbuk II. No, it's not an ancient city, it's a shopping district featuring over 60 stores, restaurants, and recreation areas. With so many options, you could probably spend the entire day shopping here. If you need something as simple as a grocery store, check out Monterey Plaza. 
Have Some Fun in the Sun
Fly a Kite
Build a Sandcastle
Sunbathe
Search for Seashells
Play Beach Games
Picnic
Surf, sand, wind, and waves! Beaches and vacation time go together like peanut butter and chocolate: it's simply meant to be! You don't have to go to an exotic island to get in some good beach time. Corolla is home to breath-taking and beautiful public and private beaches. The beaches are clean, well-kept, and secure.
Your family will really enjoy the beach time, including your pets! However, please be sure to keep Fido on a leash at all times.
Enjoy the Great Outdoors & Adventure
Fishing
Kayaking
Parasailing
Surfing
Hiking
Kite Surfing
Dolphin Tour
If you are interested in a walk on the wild side, then these are a few of the things you should consider for your OBX vacation. Of course, the beach is the main attraction, but there is so much more. From the back nine to level ten adventure, there is so much to choose from. You may also like to read "The Best Outer Banks Outdoor Activities for an Adventurer."
Pamper Yourself
Massage
Manicure/Pedicure
Facial
Beach Yoga
There are so many fun things to do in Corolla, NC, but sometimes you just need to take a break at the end of the day. If your body is sore from shopping or fun and excitement, or running on the beach, why not wind down the day with a massage?
A spa day on the Outer Banks is a wonderful way to relax and let your worries pass by. There are numerous spas and massage studios in Corolla, such as Outer Banks Massage Therapy.
Enjoy Our Local Food & Drinks
Tapas
Italian
Cafés
Breakfast
Of course, we would be remiss if we didn't talk about food. There is no shortage of amazing places to eat in Corolla. There are numerous excellent restaurants you'll want to try out. Whether you're in the mood for a romantic meal at La Dolce Vita, or searching for a simple, delicious meal at Urban Kitchen, you'll find something here to suit your taste buds. If you are in the mood for our amazing breakfast options, be sure to read our list of the best bakeries in the Outer Banks.
If you are vacationing with children, you will want to check out our blog post titled "Things to do in Corolla, NC with Kids."
Stay at a Paramount Destinations Vacation Rental in Corolla
With so many fun and relaxing things to do here in Corolla, it comes as no surprise that people travel here year after year. Make the most of your family vacation when you choose to stay in a Paramount Destinations vacation rental. Choose between gorgeous homes in Duck, Southern Shores, or Corolla. You can even opt to stay in an esteemed community such as The Currituck Club, where you'll have access to amenities such as the Clubhouse, a Fitness Center, and the Currituck Club Golf Course.
Start planning your dream vacation and choose a Corolla vacation rental this is perfect for you needs. Click below to start your search.