When you cast your line, a sense of serenity preludes the thrill of the catch. Book one of our Outer Banks Rentals today and reel in a really big one when you go deep sea fishing on the Outer Banks! Visitors will encounter a host of reliable fishing charters from Corolla all the way down to Nags Head and the Southern Shores. These experienced fishermen and women will gladly show you the ropes and share their favorite secret spots when you opt to ride out into the deep blue with them! Continue reading for some of our favorite deep sea fishing charters and access our Vacation Guide for more outdoor adventures to include in your OBX itinerary! 
The Perfect OBX Deep Sea Fishing Guide
---
"Many men go fishing all of their lives without knowing that it is not fish they are after." — Henry David Thoreau
The Best Fishing Charters
Every fishing destination promises its own unique adventure and fishing on the Outer Banks is no exception! Whether you're experienced in deep sea fishing or just now getting your feet wet, you can find the perfect fishing charter for your expedition on the Outer Banks.
Venture out into the horizon with a crew of experts that know all the best spots to go for the best catch. Most charters provide everything you need including saltwater fishing bait and tackle! Check out some of the best local fishing charters in Corolla, Duck, and the Southern Shores:
Duck Charters
Sharky's Bait, Tackle, and Charter Booking

Bob's Bait & Tackle
Southern Shores Charters
Crystal Dawn Headboat Fishing Charters

Outer Banks Fishing Charters

Rock Solid Fishing
Pro tip: Head boats are great for children and beginners! They often have restrooms and snacks on board. They also offer more in-depth instruction, and all the fishing gear necessary for a successful voyage!
Outer Banks Marinas
If you have your own boat prepped for deep sea fishing, check out some of the local marinas where you can keep your boat! You might even find fishing charters offered at some of these marinas!
Manteo Waterfront Marina

Oregon Inlet Fishing Center
The various bait and tackle shops on the Outer Banks carry everything you need for a day out on the water. Whether you consider yourself a novice angler or a seasoned pro, rest assured that these shops offer just the right rods and reels, bait, and advice. Maybe you just want to browse selections of fresh, frozen, or live bait. Perhaps you need to get a North Carolina fishing license if you're an out-of-towner. There's no doubt you'll find whatever it is on your fishing trip's shopping list at one of these shops!
What You'll Find at a Local Bait & Tackle Shop
The shops listed below carry everything from Yeti coolers and Costa sunglasses to crankbaits and spinning reels. While some shops focus on the fishing factor, others offer a wide range of apparel, gifts, accessories, and more! Pick up an Outer Banks hat as a souvenir or swing by to pick up some of the following must-haves for your tackle box:
Sunglasses

Sunscreen

Hand towels

Ice chest

Braided line (spectra)

Bait hooks
Stock up on all your favorite fishing gear to better your chances of leaving the Outer Banks with a new "fish tale" for the books!
Corolla Bait & Tackle
In addition to offering charters, Corolla Bait & Tackle also sells bait, tackle, and surf fishing lessons. They also offer rod and reel rentals, crab pot rentals, and various supplies. You might even want to ask one of the staff members for some free fishing advice!
Sharky's Bait, Tackle, & Charters
Rent your favorite brands of rods and reels at Sharky's Bait, Tackle, & Charters! You can also find fresh, seasonal bait as well as the best artificial lures from Fishbites, Honeyhole, Got-cha, Slurp, and Sea Striker!
Bob's Bait & Tackle
Whether you need fishing gear and supplies or lessons and local tips, Bob's Bait & Tackle, in Duck, is a great shop to visit! You can also check their website for daily fishing reports for pier, beach, sound, and offshore fishing!
Tackle Shops in Nags Head
Whalebone Tackle
If you're seeking some local pointers, Whalebone Tackle is a great resource! Not only do they stay stocked up on the best fishing gear, but they also offer loads of advice on where to fish, what's in season, what the regulations are, and more!
T.W.'s Bait & Tackle, Inc.
T.W.'s Bait & Tackle is an excellent resource for finding souvenirs, coolers, Yeti cups, and accessories! They also carry all your favorite brands of rods, reels, artificial bait that you like to have on you for a successful fishing trip!
Outer Banks Fish Species
"If I fished only to capture fish, my fishing trips would have ended long ago." — Zane Grey
One of the most exciting things about deep sea fishing is the opportunity to reel in a big catch! Set sail for the Gulf Stream and you'll encounter a variety of Outer Banks fish species. Depending on the season and migrations, schools of popular sport fish make their way through our waters. While you're out fishing, you might catch tuna, billfish, marlin, mahi, snapper, and more!
Pro tip: Bring Dramamine or anti-nausea medicine! The Gulf Stream waters can be quite rocky.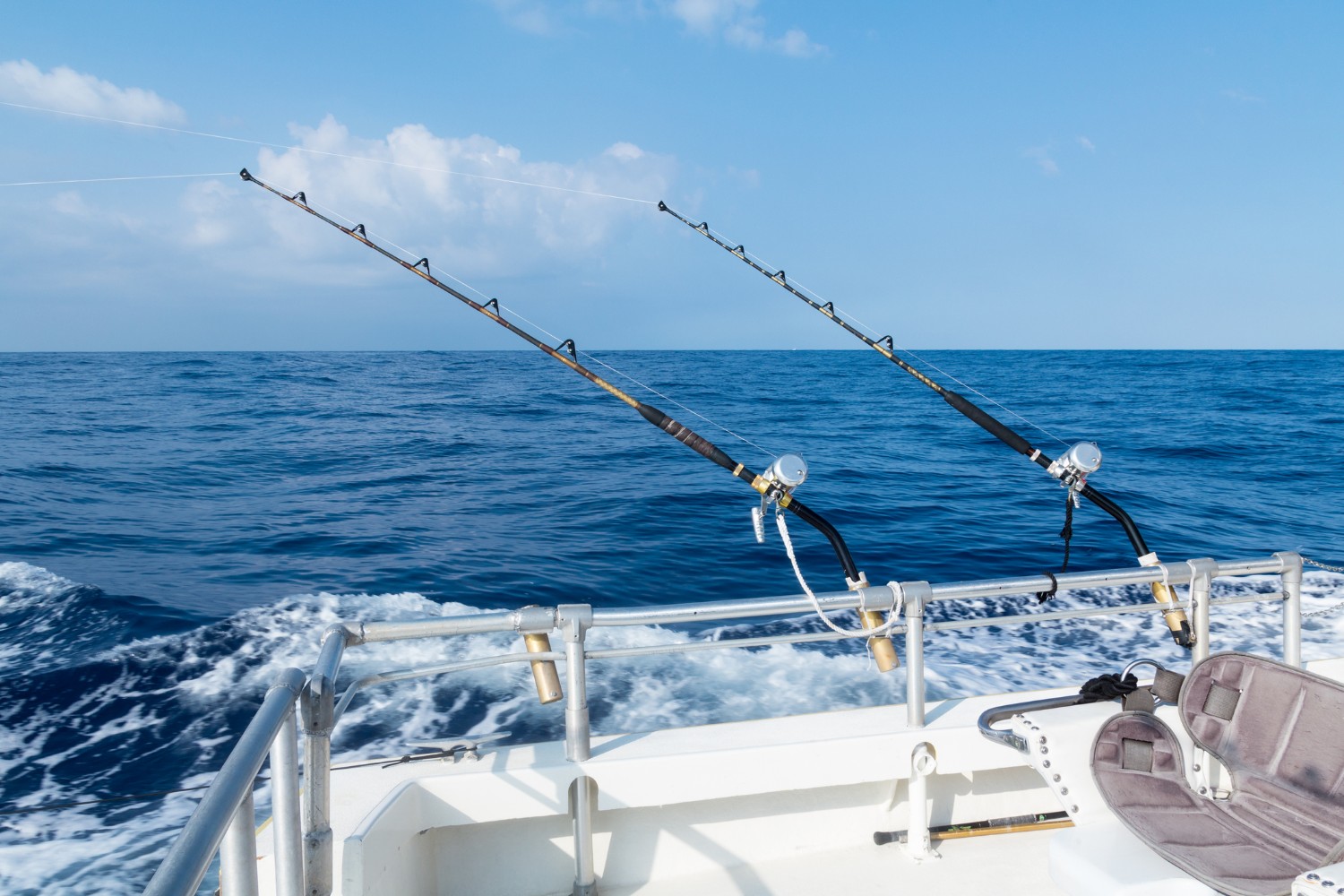 Spring Fishing
As the seasons change, the weather in March, April, and May on the Outer banks begins to warm up! As a result, so do the waters of the Gulf Stream. Some of the most popular fish found this time of year include:
Black Drum

Bluefish

Red Drum

Yellowfin Tuna

Big Gaffer Mahi

Spanish Mackerel

Whiting (Sea Mullet)
Summer Fishing
Fishing on the Outer Banks in the summertime is a blast! Charters head out almost every day this time of year. It's also a great time to enjoy fresh, local seafood at some of the best OBX restaurants. Some of the most common fish to see in the water and on menus include:
Yellowfin and Blackfin Tuna

Flounder

Gaffer and Bailer Mahi

Sailfish

White and Blue Marlin

Wahoo

Spanish Mackerel
Fall Fishing
As crowds begin to thin, the Outer Banks becomes a fisherman's dream. Temperatures remain pretty warm throughout the fall, even in November. Also, hungry fish begin migrating South and along the Carolina coast. This means that massive schools of Mahi and other fish species abound offshore this time of year!
Mahi

Bigeye Tuna

King Mackerel

False Albacore

Striped Bass (Rockfish)

Speckled Trout
Winter Fishing
As long as the weather permits, winter fishing off of North Carolina's barrier islands can offer fisherman a fruitful catch! Just be sure to track local charters' weather forecast reports before planning your day. Sometimes choppy waters and strong winds can make it too difficult for the boats to go out.
Big Chopper Bluefish

Red Drum

Yellowfin, Bluefin, and Blackfin Tuna

King Mackerel
Additional OBX Fishing Ideas
If deep sea fishing and riding out on a charter boat is not really your thing, consider some of the following alternatives!
Pier Fishing
Some of the best fishing piers on the Northern Beaches of the Outer Banks include:
Kitty Hawk Fishing Pier

Avalon Fishing Pier

Nags Head Fishing Pier

Jennette's Pier

Outer Banks Fishing Pier
Surf Fishing
There's something to be said about simply walking from your vacation rental, pole in hand, to the ocean and casting your line! Any stretch of beach will do. All you really need are pole holders, weights, bait, and the perfect rod and reel combo.
Kayak Fishing
Kayak fishing has grown in popularity over the years. It requires a lot of balance, patience, and stamina but the thrill of the catch is worth it! Getting out a bit further from the shores allows fishermen to catch some of the larger species that are harder to come by while surf fishing.
Stay in a Paramount Destinations Vacation Home
The beautiful beaches of this region draw people from all over, year after year. Embark on exciting excursions such as parasailing, kiteboarding, or deep sea fishing on the Outer Banks! To make the most of your OBX getaway, stay in a Paramount Destinations vacation home. Maybe you're searching for a beachfront property large enough to fit the whole family. Perhaps you'd rather stay in a quiet, cozy condo close to all the fun shops in town. Whatever your preferences may be, rest assured you'll be resting your head in your dream vacation home when you stay with us!