One of the best ways to explore the Outer Banks of North Carolina and take in all of its beauty is from the water. Our region is flanked by a shimmering ocean and a peaceful sound, which means there are plenty of great spots to launch a kayak. Whether you enjoy a self-guided expedition or want to experience one of the many professional Outer Banks kayak tours around, you'll know everything you need to know by the time you finish reading this blog! For more fun activities on the Outer Banks, request access to our complimentary Vacation Guide. You'll get a glimpse at the best places to dine, things to do, and sights to see!
Before You Launch Your Kayak on the Outer Banks
Before you launch your kayak, you need to make a game plan! What would you like to see? A captivating sunrise? An enchanting sunset? Playful dolphins? Majestic birds? Identifying your goal will help you decide on the perfect spot to begin your adventure. Keep in mind that any of these excursions would also be fun in a canoe or on a paddleboard.
Kayaking for Beginners in Kitty Hawk Maritime Forest
Kiddie kayakers and adults alike will enjoy a day out on the water with Outer Banks Kayak Adventures. An expert will provide a short lesson for beginners before taking off in the Kitty Hawk Maritime Forest. This two-hour tour is slow-paced and relaxing so you can take in all the beautiful sights without having to worry about keeping up! Don't be surprised if you see a majestic bald eagle, as they're often spotted hanging out in the area!
Kayaking for Adventure-Seekers in Buffalo City
Adventure seekers, listen up because this one is for you! Outer Banks Kayak Adventures also offers an Alligator River National Wildlife Refuge kayak tour in nearby Buffalo City. You'll learn all about the exotic wildlife and may even spot an alligator, endangered red wolf, or a black bear!
Bioluminescence Kayak Tour in Nags Head
Who says you can only kayak during the day? Outer Banks Kayak Adventures will also take you on a bioluminescence kayak tour. There is no need to pull out the science textbook! See this glowing phenomenon for yourself in Nags Head. Visibility will depend on if there is a full moon, so plan ahead in case the moon is too bright! You'll see organisms in the water produce light through a chemical reaction, making you feel like you're in a real-life fairy tale!
Outer Banks Kayak Tours for the Wildlife Lover
If you love the thrill of seeing animals in their natural habitat, book Coastal Kayak's Pine Island Sanctuary Tour to explore one of the most sought after wildlife sanctuaries between Duck and Corolla. They've partnered with the National Audubon Society to give you an amazing outdoor adventure while working to save the wildlife habitat. Tours begin in the morning or just before sunset so you may even see dolphins around feeding time!
Another option is the Kitty Hawk Bay and Long Point Marsh tour (a new offering). You'll meet with the guide in the Long Point Marsh before venturing out into the open water of Albemarle Sound. It's not uncommon to see a friendly river otter lounging on the water so keep an eye out!
Kayaking for the Birdwatcher
Coastal Kayak also offers the Pea Island National Wildlife Refuge tour. Pea Island is on the northern part of Hatteras Island and is known as a "birders paradise," because 365 bird species are known to live there. You'll be taken to an old wooden bridge, where brown pelicans and osprey are typically perched. You'll enjoy these majestic creatures for 2.5 hours before returning to shore.
Rent a Kayak in Corolla
If you'd rather explore the waterways on your own, rather than with a tour guide, you can always choose to rent a kayak. They are usually inexpensive and many places will even bring it to the water for you!
Find Your Dream Vacation Home with Paramount Destinations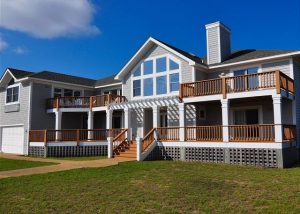 Whether you're planning a stay in The Currituck Club, Corolla, Duck, or Southern Shores, you'll find your dream vacation home with Paramount Destinations. After experiencing one of the above Outer Banks Kayak Tours, return to Silver Creek in Southern Shores. This gorgeous vacation home has an incredible ocean view! Gather around the private pool and grill up an amazing meal with all your closest friends and family. Check our availability and plan your dream vacation now!