Kayaking is a water sport just about anyone can do – adults and kids alike. It's peaceful and relaxing yet gives you a gentle upper body workout, depending on how you paddle and how long you're out. If you're experienced in calm water kayaking or white water kayaking you may discover ocean kayaking to be a combination of the two.
If bringing your own kayak on your vacation to the Outer Banks is not convenient you can rent one close to our Corolla vacation rentals. Kayaks are inexpensive to rent and they can be delivered to where you're staying or where you plan to launch into the water. Renting a kayak for an afternoon is a great way to explore the local waterways.
Following are the local kayak rental companies in Corolla: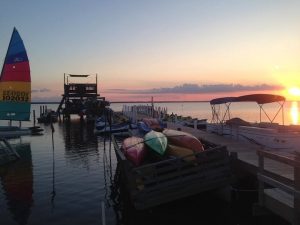 Corolla Watersports
798 Sunset Blvd., Corolla, NC
(252) 453-6900
Call for hours, pricing and reservations.

North Beach Watersports
1066 Ocean Trail, Corolla NC 27927
(252) 455-9977 or (252) 597-1928
Open daily 9 a.m. to 6 p.m.

Ocean Atlantic Rentals
Corolla Light Town Center
One block south of Currituck Lighthouse
(252) 453-2440
Open Summer: 8am-7pm Mon-Thurs; 8am-8pm Fri, Sat, Sun. (Memorial Day thru Labor Day. Please call to confirm hours.

Just for the Beach Rentals
501 Old Stoney Rd., Corolla NC 27927
(252) 453-9388 or (252) 453-6106
Open daily 9 a.m. to 5 p.m.
Kayak tours are fun and a tour company can supply everything you need. They will provide a guide that will know where all the best places are and take you to them. Ask about tours wherever you rent your kayaks.
Never tried kayaking? You're missing out on a lot of fun!