Imagine yourself flying high above the Atlantic Ocean. Feel the salty breeze blowing in your hair and take in the awe-inspiring, panoramic views of Outer Banks beaches. Embark on one of many OBX parasailing adventures on your next vacation to Nags Head, Corolla, or Duck, NC. You'll strap into a harness that comes attached to a large parachute and soar through the sky as a boat glides through the water. This activity aims to simultaneously excite and delight participants. Invite the whole family to enjoy the thrilling experience!
While OBX parasailing makes a great addition to your vacation itinerary, there's so much more to do and see during your stay. Our vacation experts compiled a thoughtful Vacation Guide that contains a comprehensive list of the best local recommendations. We did all the research for you! From wild horse tours and beach bumming to barbecue restaurants and aquariums, the Outer Banks boasts a vast array of attractions, beaches, and dining options that appeal to every member of the family.
The 4 Best OBX Parasailing Experiences
Parasailing in Corolla
Parasailing in Corolla, NC, will take you to new heights. From 600, 800, or 1,200 feet in the air, North Beach Watersports and Corolla Parasail give you a bird's-eye perspective of the Currituck Sound and the Corolla Lighthouse. Feel safe with experienced captains leading the way.
Parasailing in Duck
Create long-lasting memories when you go parasailing in Duck, NC. NOR' Banks Sailing and Watersports uses high-quality equipment to ensure the best experience in a relaxed environment. Savor the time spent soaring through the sky and soak in the salty air. With great prices for family fun, what more could you ask for?
Parasailing in Nags Head
For parasailing in Nags Head, check out Kitty Hawk Watersports! With the Wrights Brothers Memorial nearby, you'll have plenty of inspiration to fly. Experience the natural beauty of the ocean and surrounding beaches from hundreds of feet in the air. You have the option to fly solo, double up, or ride as a group of three.
Hang Gliding OBX
While visiting the Outer Banks region, you encounter a myriad of outdoor adventures. If you're interested in something a little more daring, give OBX hang gliding with Kitty Hawks Kites a shot! Some feel more in control while gliding through the wind over the Atlantic Ocean. Have the time of your life at the largest hang gliding school in the world.
The Best OBX Vacation Homes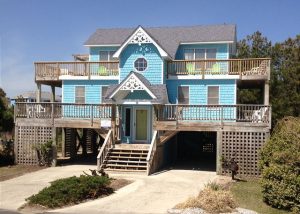 Soaring through the air over the ocean can be quite exhausting. You'll need somewhere to rest your head after a long day of fun in the sun and parasailing in the OBX. Paramount Destinations features the best vacation homes in the Outer Banks region. Whether you're looking for a smaller oceanfront property for you and the kids or a giant beach house with plenty of space and privacy suitable for an entire family, we've got you covered. Guests can even enjoy perks that we lined up with local businesses. We want you to have the dream vacation you've always wanted.
Our FamiLee Fun rental is a great home away from home! Our policies make check-in seamless and your stay as comfortable as possible. Enjoy multiple sundecks, roomy accommodations, and Monteray Shores community amenities! You'll have access to your own private pool and hot tub. Get your family vacation started and book your stay today!