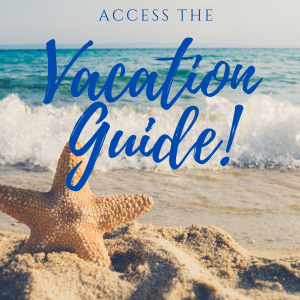 When you plan a visit to the Outer Banks of North Carolina, expect to surround yourself with beautiful landscapes and dozens of exciting things to do. The Outer Banks is known for having more than 100 miles of gorgeous shoreline. With such a large number of beaches, it's no wonder people want to spend their vacation along the shore. During your stay, you can spend time sunbathing, participating in water activities, horseback riding, and even driving on the beach on the Outer Banks. Even in the winter, there are plenty of places to explore and experience.
As you begin planning your getaway to the Outer Banks, be sure to request your copy of our complimentary Vacation Guide. Packed with great information from locals, this handy travel planner will guide you towards the best activities around. You'll get recommendations on restaurants, bars, beaches, and so much more!
What to Expect When Driving on the Beach on the Outer Banks
Where to Go
There are plenty of great places to go driving on the beach in the Outer Banks, but you want to make sure that you are fully aware of the rules and restrictions to avoid breaking any local laws. Cape Hatteras, Nags Head, and Kill Devil Hills are three areas that many people flock to when they want to experience what it's like to drive on the beach, so review their guidelines and pick the place you're looking to explore.
What to Keep in Mind
Before you rev up the engine and head out to the sands of the Outer Banks, you need to acquire an ORV (or an off-road vehicle) permit. Once you have the permit, you need to respect outlined regulations, which include rules like allowing off-roading during specific times, dates, and areas of the beach. Do your research beforehand, and you'll be well-prepared for a thrilling day of off-roading.
Places to Rent
If you're craving a taste of adventure, but you don't have a car with you, or your vehicle isn't suitable for off-roading, have no fear! You can rent cars designed for driving on the beach in the Outer Banks. The Outer Banks Jeep Rentals company is a reputable place to rent a tricked out Jeep that specially equipped to drive along the sandy shores. You can also opt to take the Jeeps along the beach to four different lighthouse sites for an extra bit of scenery.
Enjoy Your Stay With Paramount Destinations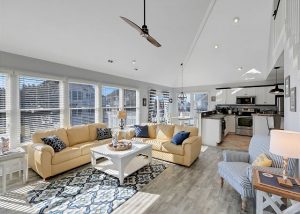 After an adventurous day of driving on the beach on the Outer Banks, you're going to be exhausted and looking for the perfect place to rest. With Paramount Destinations, you'll have everything you need in one of our beautiful rental properties with room for parties of any size. Each of our properties is located near all the best attractions in the area, providing you with easy access to everything you'll want to do during your trip. 
This property called Memories is a gorgeous four-bedroom, four and a half bathroom house with the ability to accommodate up to 12 guests. Spend your evenings cooking up a delicious dinner in the fully equipped modern kitchen, or gather around the living room for a game night together.
Browse the other properties in our catalog and book your stay today!