Vacation is all about ease, relaxation, and enjoyment, and one of the best ways to get you into that mindset is by taking a yoga class. The ancient practice of yoga promotes mindfulness and wellbeing, and it's the perfect addition to your Outer Banks getaway. No previous experience required!  
Keep reading to find out where you can enjoy beach yoga on OBX. Then, access our Free Outer Banks Vacation Guide for a complete list of things to do and see in the area.  
3 Options for Beach Yoga on OBX
Beach yoga is a wonderful experience for beginners and advanced yogis alike. As you move through each posture, you'll feel the sun on your skin and a gentle breeze off the ocean. Plus, the sound of crashing waves is incredibly relaxing and meditative.  
You may be thinking, "I can't do yoga. I'm not flexible!" And that's okay. The truth is that everyone can do yoga. It doesn't matter if you're an avid practitioner or haven't stretched in quite some time. The benefits of this practice go beyond the physical body, and taking a class will leave you feeling present connected for the remainder of your trip. 
Check out these local yoga studios offering beach yoga on OBX: 
1. Duck Village Yoga
Duck Village Yoga offers private beach yoga classes for students of all levels. The teacher comes to you, provides all equipment, and caters the class to meet any specific needs or requests. Village Yoga recommends booking your session in the early morning to take advantage of mild temperatures. You can also wear a bathing suit for a refreshing dip in the ocean after class! 
2. Outer Banks Yoga & Pilates Studio
Another great option for private beach yoga is Outer Banks Yoga Studio. Their experienced instructors are highly skilled at designing classes to suit students of varying abilities. Throughout the class, you'll be encouraged to get curious about your body, notice what's happening in your mind, and ask questions. Your teacher can also accommodate specific requests. Check the studio's website for information on group rates. 
3. Corolla Yoga
Chelsea Miller of Corolla Yoga has been practicing and teaching Vinyasa yoga for years. She offers several weekly group classes at the Lighthouse Ramp beach access for just $15. Be sure to bring a yoga mat or beach towel, water, and sunscreen. 
If you'd prefer a more customized experience, Chelsea is happy to curate a private session at the beach or your vacation rental. Check her website for details and pricing. 
Yoga at Your 
Paramount Destinations 
Vacation 
Home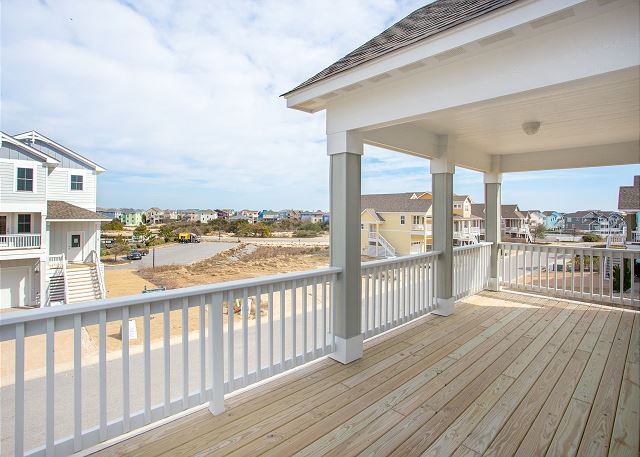 On days when you'd prefer to stay home, a yoga class at your vacation rental is an excellent alternative. Make yourself a cup of coffee or tea before enjoying a moving meditation on your sun deck or by the pool. Paramount Destinations offers the best selection of homes in Corolla, Currituck Club, Duck, and Southern Shores. We're also experts on all things OBX and can guide you to the top attractions in the area, from yoga and recreation to dining and family fun. 
Check our availability and book your stay today! We look forward to hosting you soon.