If there's anything you must do during your vacation, you have to visit the best outer banks beaches. From the rolling waves to the towering sand dunes, our beaches are one-of-a-kind. There aren't many places in America that allow you to see wild horses on the beach!
For more things to do on the Outer Banks, head over to our free Vacation Guide. It includes everything you need to know when planning your OBX vacation. Learn where to find the best restaurants, attractions, and entertainment on the Outer Banks of North Carolina for a memorable getaway!
Visit the Best Outer Banks Beaches
Corolla Beach
Have you ever dreamed of driving on the beach like you see in the movies? You can drive a four-wheel-drive vehicle with a permit on Corolla Beach! This is one of the more secluded beaches, making it better for beach driving. 
You can also experience the magic of seeing the majestic, wild horses on the beach! Corolla Beach is home to a herd of wild Spanish colonial mustangs, so don't be surprised if you spot them. 
You can also book a Wild Horses of Corolla tour or go horseback riding on the beach.
Since parking is limited, keep an eye out for public parking or stay in one of our Corolla vacation rentals that have beach access!
Currituck Beach
For a quiet and peaceful escape, lounge on the pristine shores of Currituck Beach. The northern beaches are stunning and also near so many OBX attractions, restaurants, and other activities. 
This is the perfect place to relax for those staying in our Currituck Club vacation rentals.
Jennette's Pier
An Outer Banks icon, Jennette's Pier in Nags Head, has been around since 1939. The pier has since then been revamped, making it perfect for taking in soothing ocean views while fishing off of the 1,000-foot structure!
Coquina Beach
Enjoy a day on Coquina Beach in Cape Hatteras National Seashore. The undeveloped stretch is near Nags Head, Kitty Hawk, and Kill Devil Hills. This is one of the best places to go for an intimate getaway because it feels so secluded. 
Coquina Beach is another fantastic, wide-open space for beach driving! Don't forget to pick up a permit at the Off-Road Vehicle Permit Office.
This beach is unique because you can find colorful coquina clams along the shore in the spring and summer months!
Relax in an Outer Banks Vacation Rental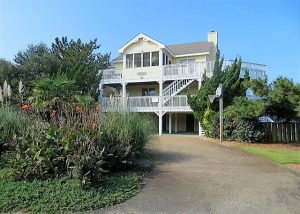 Recharge after a long day at the beach by unwinding in a luxury Outer Banks beach home. Stay in our modern, coastal accommodations for easy access to the beach and other fantastic OBX attractions.
Reserve Our Beach Oasis in Corolla for the ultimate beachy getaway. This pet-friendly rental offers beach access and is just 700 feet away from the sand. 
This five-bedroom dream home is perfect for families because you can get together for a game of volleyball, play a little bit of basketball, lounge in the private pool, or relax in the hot tub! 
So, what are you waiting for? Check our availability and reserve your dream home on the Outer Banks today.