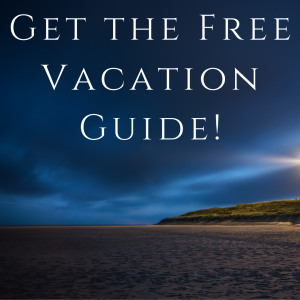 The Outer Banks is known for being one of the best family-friendly destinations, but wait until you see Outer Banks nightlife! There are a variety of things to do at night, whether you're looking for a date night or fun evening with the kids.
For more information to help you plan your OBX vacation, use our free Vacation Guide. It includes local favorites like the best restaurants, bars, and entertainment on the Outer Banks.
Liven Things Up With These Outer Banks Nightlife Activities and Attractions
1. Mama Kwan's Tiki Bar and Grill
Get a taste of the Pacific when you visit Mama Kwan's Tiki Bar and Grill in Kill Devil Hills. You can enjoy their fabulous lunch or dinner options, but we recommend that you come out at night for a lively time with friendly smiles and laughs.
This award-winning restaurant is known for a long list of titles. Some of those include Best Bar, Best Bartenders, People's Choice Best Chowder, and Best in Show. 
During an exciting summer night, toss back a Freaky Tiki Shooter, and enjoy the best tropical live music on the barrier islands!
2. The Comedy Club of the Outer Banks
Laugh the night away with a visit to Comedy Club of the Outer Banks. After a day of beach and sunshine, we recommend you laugh away the pain of that sunburn with a night at the best comedy club on the Outer Banks. 
Enjoy nationally headlining comedians and unwind with your best friends at this local hot spot. It's also great for bachelor and bachelorette parties!
3. Outer Banks Brewing Station
Pour up a cold one and enjoy a great selection of craft beers at Outer Banks Brewing Station. This is one of the best local restaurants for upscale pub fare and a great atmosphere. Come with your friends, or come to mingle. This sports bar features trivia nights and live music from cover bands!
Fun fact: this award-winning hot spot is the first wind-powered brewery in America!
4. Outer Banks Karaoke Bars
Whether you're a great singer or a terrible singer, you can experience a fun night of show tunes, country classics, pop divas, and more with an OBX karaoke night.
There are two components to consider for the perfect karaoke night. The easy part is finding the perfect place to sing. There are popular bars in just about every Outer Banks town that host karaoke nights, including Corolla, Kill Devil Hills, and Nags Head. The hard part is choosing the perfect song that will get everyone dancing!
5. Ghost Crab Hunt
If you'd rather stay away from nightlife crowds and venture off on your own, head to the beach for a fun ghost crab hunt! Just after sunset, grab a flashlight and your best ghost crab hunting crew and scavenge the shore for the iridescent, white critters. They aren't hard to come across, and it's the perfect kid-friendly activity to release that last bit of energy before walking back to your OBX vacation rental at the end of the day. 
Relax in the Best Outer Banks Vacation Rental
Unwind after a night of fun in the comfort of one of the best Outer Banks vacation rentals. Our OBX accommodations at Paramount Destinations are top-notch and perfect for your family vacation. Choose from a selection of beach-front vacation homes for the perfect Outer Banks getaway.
Jewel of the Isle in Duck, NC, is an excellent rental for your family retreat this year. This brightly colored home-away-from-home is right by the beach, so you don't have to travel far for a little bit of sunshine and relaxation. The eight-bedroom dream home accommodates 20 people, making it perfect for a family reunion on the coast of North Carolina.
Adventures await on the Outer Banks! Check our availability and start planning your dream vacation!