The Outer Banks, North Carolina, is known for its great weather, coastal recreation, and wild horses on the beach. But, another fantastic attraction you should know about is the Mustang Music Festival. The exciting festival includes several rocking events, including the Mustang Rock and Roast, Mustang Midsummer Meltdown, and Mustang Spring Jam. If you're planning to attend the events, make sure you consult our free Vacation Guide first. You can have access to all the best restaurants, events, and entertainment on the Outer Banks.
Mustang Music Festival Events on the Outer Banks
Mustang Rock and Roast
Take part in the ultimate festival and foodie experience at the Mustang Rock and Roast in October. The event goes on for two days at Mike Dianna's Grill Room in Corolla. Festival-goers can enjoy delicious locally sourced oysters and barbeque while jamming to 13 different bands. 
Experience top-notch BBQ dishes crafted by chefs as they go head to head in a pork barbeque cookoff.
If this sounds like a musical, foodie paradise to you, you can buy two-day tickets in advance for $60 or $70 at the door. Single-day tickets are $35 in advance and $40 at the door. Kids are free, and in addition to live music and food, you also get access to the after-parties! 
Mustang Midsummer Meltdown
No need to have a midsummer meltdown when you're on the Outer Banks! This event is also at Mike Dianna's Grill Room. If you're visiting OBX in July, this one-day jam fest is perfect for you. Listen to psychedelic blues-rock, jazz, rock, or soul music, depending on the lineup. 
The Midsummer Meltdown typically features two bands, and starts at 8 p.m. Tickets are $10 in advance and $15 at the door.
Mustang Spring Jam
If you're making an OBX appearance in the spring, you can't miss the Mustang Spring Jam. Enjoy an exciting musical lineup including toe-tapping tunes from a variety of diverse bands. This mustang event lasts for two days in May. Head over to Sundogs after the music festival to continue the exciting night with an afterparty and delicious food.
Quiet Down at Your Paramount Destinations Vacation Rental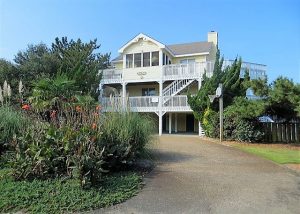 When it's time to quiet down, relax in a luxury beach home with Paramount Destinations. Our elegant properties are the perfect place to wind down during your Outer Banks vacation. All of our properties are conveniently located near the ocean and the best OBX attractions.
After a day on the beach, enjoy a meal with your loved ones while taking in the gorgeous outdoor scenery surrounding your Outer Banks vacation rental. Cook a delicious meal on a charcoal grill, serve some fruity drinks at the bar, and share memories around your private pool. What could be better?
It's time to stop dreaming and book your Outer Banks dream vacation today!