Do you swoon over seafood? Grab the family and head to the Outer Banks Seafood Festival this fall. This event is rapidly becoming one of the highlights of the season, offering fantastic food and drink, live entertainment, and fascinating exhibits. To learn how you can celebrate the heritage of the Outer Banks seafood industry at this awesome festival, keep reading! For more ideas on where to go, what to see, and things to do while on the Outer Banks, access our free Vacation Guide!
Mouthwatering Festival
Food and Beverages
What's the best part about attending a seafood festival? You get to eat all of the amazing seafood, of course! The Outer Banks Seafood Festival serves up the absolute freshest, mouthwatering seafood around. You'll have the opportunity to sample fare from 21 local seafood restaurants, such as Stripers Bar and Grille and Basnight's Lone Cedar Cafe. Be sure to taste the hot clam chowder and ice-cold raw oysters. Our mouths are watering already! You can show your appreciation for your favorite cuisine and cast your vote for the People's Choice Award, "Best Local Dish." Stay until the end of the festival to see if your pick takes home the prize! 
You'll also find plenty of refreshments to quench your thirst after eating all of that yummy Outer Banks seafood. A selection of beverages from local breweries and wineries will be available for purchase, in addition to Pepsi products and Budweiser products.  
Educational (And Fun!) Events
The mission of the Outer Banks Seafood Festival is to provide a fun and educational experience, promoting, honoring, and celebrating the coastal seafood heritage and community of the North Carolina coast. Immerse yourself in the culture and explore all that the festival has to offer, such as cooking demonstrations, fishing boat exhibits, storytelling by Outer Banks watermen, arts and crafts, and a Kids' Zone for the youngsters. Make sure you check out the Outer Banks Seafood Festival vendors page as they continue announcing them.
The
Live Music 
Take a break from perusing through the festival, and park your blanket or lawn chair on the grass and delight your ears with tunes of bluegrass, country, and the blues. Year after year, the OBX Seafood Festival features some of the area's most talented musicians. This year, local bands, including Out n' the Cold and the No More Room Band, will be on the stage jamming out all day long. 
The
Event Site
An impressive aspect of this festival is a beautiful location. The 2019 Outer Banks Seafood Festival takes place at The Soundside Event Site, in Nags Head, North Carolina. It sits upon 10 acres of lush, green space, making it one of the most significant event sites on the Outer Banks. Festival attendees will be blown away by the picturesque sunsets and scenic views of the Roanoke Sound. 
More Information About the Outer Banks Seafood Festival 
Save a spot for everyone in the family at this can't-miss event. Outer Banks Seafood festival tickets go on sale on July 1st. Admission is only $5 dollars! 
Are festivals your favorite? Stay in the know on all of the events and festivals happening on the Outer Banks, so you don't miss out! 
Stay at Stunning Vacation Home in the Outer Banks 
After a fun-filled day at the Outer Banks Seafood Festival, come back to your dream vacation home and unwind. Paramount Destinations provides an excellent array of vacation rentals for the entire family. We even offer pet-friendly rentals so your furry-friend can tag along! With properties available in Corolla, Duck, and the Southern Shores, you are sure to find your perfect vacation home.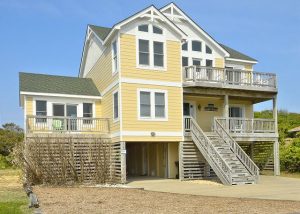 Every Paramount Destination property comes equipped with Wi-Fi, central air conditioning and heat, all major kitchen appliances, washer and dryer, linens and towels, and more! Our Gramp's Dream home, located in Southern Shores, has its very own private pool and hot tub, plus a grill for cookouts! What are you waiting for? Start planning your trip today.