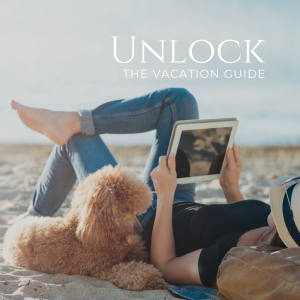 We don't know about you, but the first place we like to go when the weather starts to warm up is the beach! So, why not plan a trip to the Outer Banks in May? Many factors make it the best time of the year to visit the Outer Banks of North Carolina. But, before you spring to the coast, make sure you grab your copy of our complimentary OBX Vacation Guide. It offers you an insider's look at our favorite places to dine, sightsee, shop, and more! It's a fantastic way to personalize your vacation to match you and your family's favorite things to do. Take a look for yourself, and start planning your spring break or Memorial Day weekend!
Discover the Best Things to Do on the Outer Banks in May
Outer Banks Weather in May
We highly recommend visiting the Outer Banks in May if you prefer mild weather. The temperature is perfect during the spring months with sunshine and comfortable temperatures in the 60s and 70s. The warm temperatures are ideal for sunbathing on the beach or by the pool, but be mindful that the ocean water may still be a little chilly. You can always book one of our vacation rentals with a heated pool if you'd like to go swimming!
May Annual Events on the Outer Banks
There are always plenty of things happening on the Outer Banks throughout the year. The North Carolina coast has some especially exciting events during the springtime.
1. Hang Gliding Spectacular and Air Show
You're sure to have a great time at the Hang Gliding Spectacular and Air Show in Nags Head. Kitty Hawk Kites hosts the annual event, and you see professional hang gliders in an incredible show on the largest living sand dune, Jockey's Ridge. Plus, the event is free and features fun activities all day!
2. Mustang Spring Jam
Music lovers can enjoy two days of phenomenal musical performances at the two-day Mustang Music Festival in May. In addition to the spectacular tunes, you can also indulge in some tasty meals. The event happens every year at Mike Dianna's Grill Room. You can try their delicious surf 'n' turf dishes or take part in their grilled cheese cook-off! They also host other Mustang music festivals throughout the year!
3. Spring Restaurant Week
Local food enthusiasts are in for a treat when Spring Restaurant Week rolls around on the banks. Taste the flavors of the coast with enticing seafood, scrumptious desserts, and more. During Restaurant Week in the spring or fall, you can get a three-course lunch or dinner for a fixed price at participating restaurants. You don't want to miss out on this tasty opportunity!
Spend Your Spring Getaway With Paramount Destinations
You deserve a relaxing getaway this spring, so spend it in the best vacation homes on the Outer Banks. Paramount Destinations offers luxury beach homes with premium amenities. Choose a home with captivating ocean views, a private pool, hot tub, game room, gourmet kitchen, and more. Plus, our homes can accommodate any size family, perfect for spring break!
Check our availability and start planning your dream vacation today!