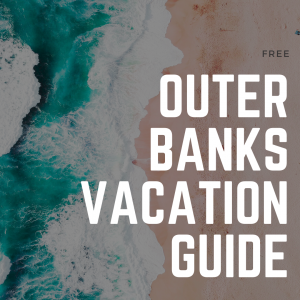 When you're ready to leave behind the fast life of the city for a week of sunshine, beaches, wildlife, and great food, make the road trip from Pittsburgh to Outer Banks. It's one of the best vacation destinations to unwind and enjoy the beach without having to travel too far!
If you're planning out your vacation to the OBX shores, make sure to access our free Vacation Guide! We've created the perfect guide that includes local favorites when it comes to the best restaurants, attractions, outdoor recreation, and shopping on the barrier islands of North Carolina.
Must See OBX Attractions If You're Traveling From Pittsburgh to Outer Banks
There are so many phenomenal things to see during your stay in the Outer Banks that it can be challenging to narrow it down into just one week of activities. Below, you'll find a few of our all-time favorites!
Take Wild Horse Tours on Corolla Beach
See majestic Spanish colonial mustangs grazing along the dunes during a guided Corolla horse tour! Wild Horse Adventure Tours will take you to three different ecosystems in search of the coastal creatures. Learn all about local lore, legends, and ecology as you ride an open-air Hummer around the barrier islands. You're sure to feel young, wild, and free as you scope out the area on a Hummer with your crew!
Admire the Wright Brothers Memorial
If you're looking to get a little bit of history during your vacation, why not get a glimpse of the very first flight! The Wright Brothers Memorial honors the two brothers that took the first flight in history, and it happened right off the dunes of Kill Devil Hills!
See the 60-foot granite structure on top of the hill, then check out the life-sized models of the 1903 flyer and 1902 glider planes.
Indulge at Duck Donuts
You may have enjoyed this iconic pastry in your hometown of Pittsburgh, but have you tried Duck Donuts directly from the source? This breakfast treat had its start right here on the Outer Banks! The story begins in Duck, NC, where one man and his family spent time vacationing year after year. In 2007, he decided the vacation town needed a little bit of sweetness.
Head over to Duck and watch your bacon, coconut, or Oreo creations come to life right in front of you as you watch a donut-maker top off your favorite treat.
Paramount Destinations: The Ultimate Road Trip Destination
After a day of traveling, unwind in the most relaxing accommodations on the Outer Banks! Our luxury vacation rentals offer spacious rooms with breathtaking ocean views. Lounge by your private pool or melt your troubles away in a hot tub. But, the ultimate stress-reliever is just steps away depending on the rental you choose. Walk to the beach and listen to the soothing waves first thing each morning. It's the best way to start your day! If this all seems like a dream to you, make it a reality! Reserve your dream vacation by the beach now!