Escape the fast-paced lifestyle for a week, and treat yourself to a much-needed getaway. If you're getting bogged down by work and other daily stresses, you probably need a bit of beach therapy. Get your fix of vitamin sea and make the trip from Philadelphia to Outer Banks.
Before you hit the road, plan your week with our free Outer Banks Vacation Guide. Find the coolest restaurants, outdoor adventures, and lively entertainment on the barrier islands of North Carolina! 
Why You Should Make the Trip From Philadelp
hia to Outer Banks
You Need to Escape Daily Stresses of Living in a Busy City
If you're feeling burned out from everything going on in your life, it's time to step back for a moment and enjoy the sunshine. Traveling, in general, is a known way to relieve stress, and traveling to the Outer Banks is sure to put a smile on your face!
Outer Banks Food is Phenomenal
Locally-sourced dishes aren't difficult to find along these North Carolina shores. Select from a wide variety of local seafood restaurants, southern-style barbeque, and more. We could go on and on about the amazing restaurants spread throughout town, but a few that we recommend are Mike Dianna's Grill Room in Corolla, The Blue Point in Duck, and Coastal Provisions in Southern Shores.
There Are Numerous Ways to Bask in the Sunshine
Dip your paddle into the peaceful Currituck Sound and kayak through the serene OBX waters. Looking for more of a thrill? Soar through the air as the waves crash beneath you, and go parasailing with North Beach Watersports! They also offer jet skis, tubes, standup paddleboards, kayaks, and pontoons!
Our Coast is Rich With History
Use this getaway as an opportunity to learn new things! There are tons of important events in history that have made the Outer Banks famous. Sure, Philly is known for its extensive history, but the OBX coast also had a prominent role in the making of our nation!
You can visit the spot where the first flight took off, or step onto the boat that carried the first English colonists to the New World, the Elizabeth II in Manteo. Why read about it in textbooks or on the internet when you can see it for yourself?
You Can Make the Road Trip Almost As Fun as the Vacation Itself!
The driving distance from Philly to the Outer Banks is around 350 miles if you take US-13 S. If seven hours of driving doesn't seem appealing to you, try splitting the road trip up by stopping at cool attractions along the way! Plus, the Outer Banks is so worth it! 
Here are some popular destinations you should check out when it's time to stretch your legs!
You've Arrived in the Outer Banks!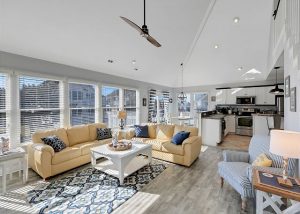 Unpack your bags in a luxury Outer Banks vacation rental. The best way to relax after a day of driving is by spending an evening on a private deck accompanied by gentle sounds of the ocean. You can do this in our Paramount Destinations vacation rentals!
Reserve our Memories vacation home in Corolla for peaceful sunrises on the deck and afternoons in the private saltwater pool.
So, what are you waiting for? Your relaxing escape awaits on the Outer Banks. Check our availability and book your getaway today!