What's a trip to the OBX without trying some Kill Devil Rum? If you're looking to enjoy Caribbean-inspired rum like the pirates of the Banks once did, look no further than Outer Banks Distilling in downtown Manteo. It's the first legal distillery on the Outer Banks of North Carolina. There, you can try their award-winning white, gold, silver, and pecan rums. While you're there, take a tour of the distillery and learn how Kill Devil Rum inspired the naming of OBX towns, Kill Devil Hills and Nags Head!
If you're looking for more pirate grub on the Banks, make sure to access our free Vacation Guide. It includes all of the best dining, attractions, outdoor recreation, and events in the area.
What to Do at Outer Banks Distilling in Manteo
Take a Tour of the Distillery
Reserve your tour time between Tuesday and Saturday for an in-depth walk through the history-filled rum distillery. You can call (252) 423-3011 to make a reservation.
What to Know Before Booking a Tour
Outer Banks Distilling offers tours to anyone over 21 years old for $10. Just make sure to dress appropriately for the heat during the summer months. The tasting room has air conditioning, but the distillery floor does not.
Unique Rums to Try
Flagship Rums
The distillery's flagship rums are available year-round, and you can choose from their Kill Devil Silver Rum, Kill Devil Pecan Rum, or Kill Devil Gold Rum.
Shipwreck Series
For a variety of molasses, sugars, and barrels, explore the distillery's Shipwreck Series. These small-batch rums are limited edition, so check to see if they offer them during your visit!
Solspice Series
If you visit during the summer and winter solstices, you have to try their unique Solspice Series. These two rums offer flavors of seasonal herbs and spices to compliment fig, cinnamon, and orange blossom honey ingredients.
Angels' Share Rum
Angels' Share Rum is a unique small-batch rum that honors those who once served at Outer Banks life-saving stations. All of its proceeds go back to the community!
Was Kill Devil Hills Named After Rum?
During your tour of the distillery, you'll learn the history of Kill Devil Hills and how it got its name, according to a legend. Stories say that rum originated in the Caribbean, where it was referred to as "kill-devil." 
During the shipwrecks of The Graveyard of the Atlantic, barrels of rum tumbled into the waters. They then washed up to the shores of what is now Kill Devil Hills.
Find Sunken Treasure at the Best Outer Banks Vacation Rental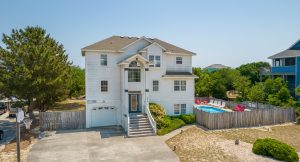 If you're feeling a little bit buzzed, and it's time to rest, unwind in a luxury Outer Banks vacation rental. Paramount Destinations offers the best rentals on the Outer Banks. They include fantastic amenities like private pools, hot tubs, and even clubhouse amenities.
After a day of sipping and learning all about Kill Devil Rum, rest your head in our Fiddlin Around rental! This six-bedroom vacation home features a private pool, hot tub, and all of the best amenities. Check our availability, and experience the Outer Banks from the best beach homes on the barrier islands!