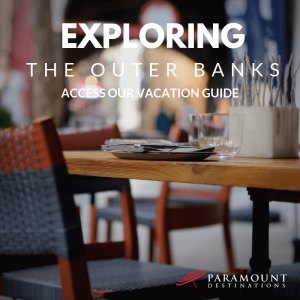 Picky eaters and adventurous foodies alike all enjoy the delicious food on the Outer Banks! One of the best parts of vacation is sampling the delicious food prepared at locally owned establishments. Choose between a variety of tasty cuisines that different Duck, NC, restaurants offer. From made-to-order donuts to dishes featuring freshly caught seafood, you will find the perfect meal to satiate any craving! Read on to learn about some of our favorite dining establishments and check out our suggestions for the best attractions on the Outer Banks in our free Vacation Guide!
7 of the Best Duck, NC, Restaurants
1. Aqua Restaurant
The atmosphere of a restaurant can really add to your dining experience. At Aqua Restaurant, celebrate local flavors and regional cuisine while dining in a sophisticated, waterfront setting. Order the braised Meyer farm short ribs paired with gorgonzola polenta and sauteed broccolini. Vegans and vegetarians can opt for the savory, wild mushroom quinoa bowl.
After your meal, head to the attached Aqua Spa for one of the best massages on the Outer Banks!
2. The Blue Point
For a mellow mood accompanied by local, sustainable seafood, head to Blue Point that overlooks the Currituck Sound. Chefs prepare each dish with precision and capture the essence of seasonal, Southern cuisine! The restaurant resides with the Waterfront Shops of Duck, one of the best spots for shopping on the Outer Banks. Spend your day browsing for the perfect souvenir to bring home, then savor freshly caught sea scallops or pan-fried local crab cakes.
3. Roadside Bar & Grill
Creamy Cajun mac & cheese, blackened catfish sandwiches, wild boar tenderloin, and seafood stew exemplify the diverse selection of tasty eats available on the Roadside Bar & Grill menu. For drinks and entertainment, head to the Backside Bar, a lively outdoor bar behind the restaurant! Treat yourself to a creative cocktail such as the flower power cosmo or the Kill Devil rum punch.
4. Paper Canoe
Beautiful plating and breathtaking views set Paper Canoe apart from all the rest of the restaurants on the Outer Banks! If you're able to leave the kids behind with their grandparents for a romantic date night, you and your significant other will love the gourmet cuisine at this unique establishment. Opt for the center cut bacon-wrapped filet or the classic Southern favorite, shrimp and grits.
5. Cravings
When you're on vacation, sometimes you just want to stay in your swim clothes and eat at your Duck vacation rental! Grab a seafood pot to go from Cravings Steaks and Seafood! This eatery is a great place to dine in as well. Locals, vacationers, and even Guy Fieri all rave about the delicious options on their menu!
6. Heart Restaurant
Maybe you're craving ramen or poke. Perhaps you're in the mood for pork chops or fried oysters. Find an array of menu items fit to curb your appetite at Heart Restaurant! Do yourselves a favor and order the Brussels sprouts as your side item! Their eclectic selection makes this establishment a favorite for all members of the family!
7. Duck Donuts
No list of restaurants in Duck, NC, is complete without mention of Duck Donuts! This establishment began on the beaches of the Outer Banks and has since spread across the Southeast! Warm donuts melt in your mouth, giving off unique flavor combinations ranging from maple and bacon to peanut butter and raspberry. If you're on vacation, why not treat yourself?
Dine In at Your Paramount Destinations Rental
Delicious dining options don't stop at Duck, NC, restaurants. Find your next favorite meal at some of the best Outer Banks restaurants in nearby towns. Dine in Corolla and Southern Shores. Stay near all the best establishments, attractions, and beaches when you choose to stay in a Paramount Destinations vacation rental! We offer a wide range of homes in Duck, Corolla, and Southern Shores. Our homes boast thoughtful amenities, clear check-in and check-out procedures, and outstanding views! What are you waiting for?