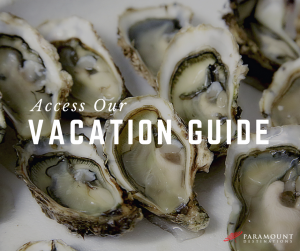 The Outer Bank's local cuisine draws many foodies to the area. When you plan your visit, be sure to add some of the best Corolla, NC, restaurants to your itinerary! Maybe you're looking for a family-friendly lunch spot before a day out in the sun. Perhaps you want to leave the kids with the grandparents so you can enjoy a much-needed date night. Whatever your plans may be, you're in luck! The restaurants in Corolla promise mouthwatering options wherever you go. With tasty Thai dishes, succulent seafood, and more, you're in the right place for impressive eats! For more great ideas on where to eat and what to do, check out our free Outer Banks Vacation Guide!
10 Amazing Restaurants in Corolla, NC
1. La Dolce Vita
Who doesn't love pasta? La Dolce Vita is the perfect location for a romantic dinner. This family-owned restaurant serves the tastiest Italian on the Outer Banks. Try the portabella mushroom and spinach ravioli. Yum!
2. Urban Kitchen
Urban Kitchen manages to craft the most delicious meals out of simple, seasonal fare. Try the watermelon shishito peppers to start! Finish your meal with a pork chop plate, cheddar grit cake, and green beans.
3. Agave Roja
Mexican food satiates any appetite! Agave Roja incorporates a fresh, modern take in their classic Mexican dishes. The "chile con carne" and "pollo mole Colorado" enchiladas are to die for. This spot is easily one of the best restaurants on the Outer Banks!
4. Outer Banks Boil Company
For big family gatherings, Outer Banks Boil Company has you covered. Pick up buckets of potatoes, corn, and shrimp to prepare a traditional boil! You can cook everything yourself, or someone can come to your beach house to help you.
5. Mama Easley's
With delicious bites such as fried green tomatoes and breaded jumbo shrimp, Mama Easley's is a family favorite. Their fried seafood baskets, burgers, and Po'boys are guaranteed to please even the pickiest of eaters.
6. North Banks Restaurant & Raw Bar
North Banks Restaurant & Raw Bar is one of the best restaurants offering seafood and more year-round. Sip on creative, hand-crafted cocktails. Indulge in hearty servings of lobster, scallops, crab mac, and more. You're in for quite the treat!
7. Uncle Ike's Sandbar & Grill
A local favorite, Uncle Ike's Sandbar & Grill boasts a family-friendly atmosphere that is fun for everyone. Their menu features healthy options for those looking to keep their diets in check while on vacation. Don't worry, there are some splurge-worthy menu items as well!
8. Metropolis Martini & Tapas Restaurant
Dine on globally inspired tapas paired with a fine wine or creative cocktail at Metropolis Martini & Tapas Restaurant! Sample artisanal cheeses and charcuterie to start. Finish your meal with pan-seared scallops cooked in red curry and coconut milk and topped with cashews and pineapple.
9. Corolla Village BBQ
Are you looking for the perfect pit stop for your day trip to visit the Currituck Beach Lighthouse? Corolla Village BBQ serves some of the best pulled pork on the Outer Banks! Order a BBQ sandwich with coleslaw, ribs, or chicken! You might even find an excuse to go back for seconds before your vacation ends!
10. Mike Dianna's Grill Room
Mike Dianna's Grill Room restaurant is practically an institution on the Outer Banks. Entrees include local fish and shellfish, surf & turf, and hand-selected, USDA meats, seasoned and grilled over native hardwoods. This impressive establishment makes for a great addition to the many amazing things to do on the Outer Banks!
Book a Stay With Paramount Destinations
Now comes the hard part. Deciding which Corolla, NC restaurants to dine at first! After a long day exploring the Outer Banks' culinary scene, return to your Paramount Destinations vacation home! You can even stay in one of our Corolla properties near all the aforementioned eateries! Cherish quality time with family and make memories that will last a lifetime.
What are you waiting for? Browse a full inventory of our Outer Banks rentals and reserve your stay today!