Thinking about planning a vacation but don't know where to begin? We're here to help with an ultimate guide to planning a road trip from New York to the Outer Banks! Below, you'll find some of our favorite places to stop on your adventures to the NC coast. 
Then, check out our free Vacation Guide to the Outer Banks for an insider's look at the top things to do around the OBX, including the best restaurants, museums, outdoor recreation, shopping, and other attractions! 
Where to Stop on Your Road Trip from New York to the Outer Banks
How Long Does It Take to Get From New York to the Outer Banks?
It can take around 8.5 to 9.5 hours to get from New York to the Outer Banks, depending on which cities you're departing and driving to. 
Philadelphia, Pennsylvania
After starting your road trip from New York to the Outer Banks, you'll make your way through New Jersey and Pennsylvania. Just 20 minutes out of the way, you can make a stop in Philly! Make sure to snap a pic with the famous Liberty Bell or stop by for lunch and try an authentic Philly cheesesteak in the city where it all started! 
Ocean City, Maryland
After crossing the Delaware River, you can take US-13 and make your way south by driving through Delaware and Maryland. You have to make a stop at Ocean City, a beautiful resort town right on the coast of the Atlantic Ocean. Exploring the famous boardwalk and trying their saltwater taffy are musts if you visit this cool destination. 
Washington D.C. to the Outer Banks
If you take Interstate 95 rather than Highway 13, you'll drive through Baltimore and Washington D.C. A cool attraction to visit in Baltimore is Fort McHenry, the birthplace of our country's national anthem, the Star-Spangled Banner. How cool is that? 
Or, check out the Civil War-era battleship, the USS Constellation or the National Aquarium! 
Then, make your way through D.C. It's obvious that D.C. boasts a pretty well-known attraction. So, if you visit D.C., make sure to squeeze in a trip to the White House and explore the nation's capital before returning to your road trip! 
Flights From New York to the Outer Banks
Don't feel like driving for 8 or 9 hours? No worries-there are flights that fly from NYC to Norfolk, Virginia. That will leave you with about 2 hours of driving from the ORF Airport to the Outer Banks. Or, you can hop on a plane from NYC to the Raleigh Durham Airport in North Carolina, which will leave you with a 3 to 4-hour drive to the Outer Banks. 
Or, if Outer Banks air charters are an option, you can take one to any of the 5 closest airports to the OBX. 
Arrive on the Outer Banks
You've made it to the Outer Banks! Take North Carolina Highway 12, which links the peninsulas and islands of the northern part of the Outer Banks, then make your way towards your Paramount Destinations vacation rental. 
Ideas for Things to Do on the Outer Banks During Your Stay
Put the Car in Park at the Best Outer Banks Vacation Rental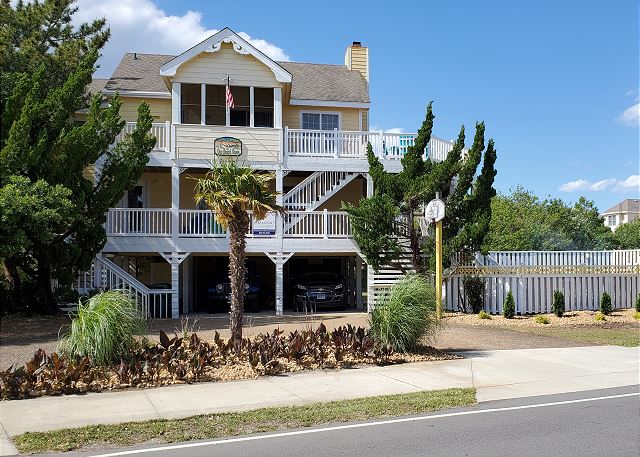 After 8 or 9 hours of driving, it's time to unpack and relax in one of the best vacation rentals on the Outer Banks. Paramount Destinations offers a large selection of small or large rentals near the beach, museums, and other attractions. Check our availability and book your favorite today!