Spacious beaches and mild temperatures are just a few things you can find on the Outer Banks during the offseason. If you're trying to social distance and avoid touristy crowds, this is one of the best times of the year to visit! The barrier islands of North Carolina are usually known as a summer vacation destination, but many don't realize the OBX has incredible activities throughout the winter, spring, and fall as well! 
For a list of our favorite open year-round things to do, check out our free OBX Vacation Guide. We've included a local's guide on some of the best restaurants, bars, shopping, museums, and outdoor recreation along the North Carolina coast. Have a look for yourself and start planning your getaway! 
What Is There to Do During the Outer Banks Offseason?
You can take flying lessons at the largest hang gliding school in the world, Kitty Hawk Kites' Hang Gliding Training Center. Strap up, get a running head start, and prepare for take-off. This unforgettable experience is perfect for any thrill-seeker. 
Wright Brothers Memorial in Kill Devil Hills
Visitors fly from all over the world to see the spot where the first powered airplanes took flight. In 1903, Orville and Wilbur Wright piloted the first planes over the sandy dunes of Kill Devil Hills, NC.  
You can admire the 60-foot granite memorial statue that sits on top of the hill or absorb tons of fascinating flight facts from the Centennial of Flight Museum. Or, check out the Wright Brothers Memorial Visitor Center, where you can see life-size models of the 1903 flyer and 1902 glider planes. 
If you come in December, we recommend checking out the Annual Celebration of the First Flight. The celebration has numerous events including keynote speakers, a ceremony, and even a NASA aircraft flyover! 
Fishing and Hiking at Cape Hatteras National Seashore
Get ready to cast a line or lace up your hiking boots. Cape Hatteras National Seashore is home to some of the best outdoor recreation. This 70-mile stretch of seashore is home to the Cape Hatteras Lighthouse and the Bodie Island Lighthouse. Visit during the spring and fall, and you could have the opportunity to climb a lighthouse for the perfect view of the ocean water. 
If you love fishing, make sure to bring your fishing gear. The national seashore is a hot spot for surf and pier fishing. Plus, there's a great variety of fish during the offseason! 
If you're looking for a little bit of fresh air and exercise, we recommend hiking! From the hiking trails, you can see beautiful maritime forests, sand dunes, and marshes. You can even relax and build a campfire with a beach fire permit! 
Plan Your Getaway 
with
 Paramount Destinations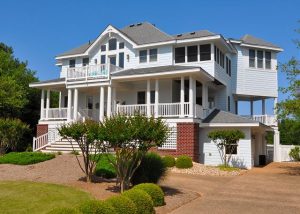 No matter the time of year, Paramount Destinations is always here for you! Our luxury vacation rentals on the Outer Banks are perfect for your family getaway year after year. Make it a tradition to get the family together in one of our large rentals. 
As Time Goes By is the perfect home-away-from-home for an active group. This pet-friendly accommodation has five bedrooms and sleeps 12 people. It's also within The Currituck Club, which means you have access to fantastic amenities like a fitness center, tennis court, basketball court, and more! So, what are you waiting for? Your dream home is calling your name! Reserve your stay today.