COVID-19 Update 2020: To limit the coronavirus spread, attractions may be closed, have partial closures, or request that guests adhere to their safety guidelines. 
As the end of summer draws near, the urge to make the most of the beautiful weather increases. Lucky for you, there are so many amazing things to do on the Outer Banks in August. From exciting seasonal events to fun family activities, you can fill your vacation with adventure, fun, and relaxation. Do yourself a favor and use those hard-earned vacation days before the kids go back to school. 
Read on to learn more about our favorite things to do this time of year. Then, get a copy of our free Vacation Guide for even more thoughtful suggestions to include in your itinerary! 
---
4 of Our Favorite Things to Do in August on the Outer Banks 
1. Attend One of the Best Seasonal Events
Feast on delicious, fresh watermelon, learn to talk like a pirate, enjoy a local glass of wine, and more at one of the best seasonal events on the Outer Banks! 
2. Have Fun With the Kids Before School Starts
One of the reasons that the Outer Banks is a popular family destination is that it is home to a wide variety of fun activities for kids of all ages! Some of our favorites include: 
3. Escape the Summer Heat at a Local Museum
Whether you're looking for something to do on a rainy day or simply trying to cool off from the summer heat, you'll find plenty of local museums to pique your interest! 
4. Take Advantage of the Weather and Get out on the Water
Maybe you're an adventure seeker looking to catch some waves. Perhaps you'd prefer a relaxing boat ride or guided tour. Either way, be sure to check out some of the best ways to get out on the water during your visit! 
---
Stay in a Paramount Destinations Vacation Rental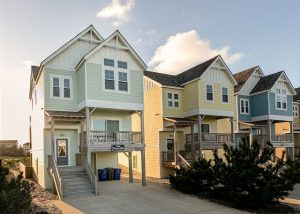 Take comfort in the privacy of your own Paramount Destinations vacation home when you visit the Outer Banks in August. Relish in amazing amenities such as pet-friendly accommodations, private pools, and beach community access. As a Paramount Destinations guest, you have access to our Paramount Perks, which allows for discounted rates on the most popular OBX attractions. You can also check to see if any of our properties are running special deals that interest you.  
Are you ready for a vacation? 
---