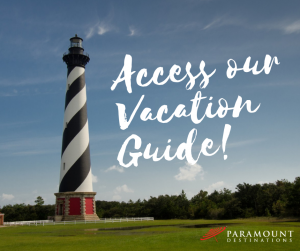 No vacation on the Outer Banks is complete without a visit to the Cape Hatteras National Seashore. Beautiful beacons adorn the OBX coast, and the Cape Hatteras Lighthouse is one of this coastal community's historic treasures. The notable black and white candy-cane stripes set this magnificent architectural feat apart from all the rest! Admire the lighthouse from down below or climb up the stairs for outstanding views of the Atlantic Ocean. Continue reading to learn more about this must-visit attraction and access our complimentary Vacation Guide for more ideas to include in your ultimate OBX itinerary!
About the Cape Hatteras Lighthouse
Uncover the Facts
The impressive height, beautiful architecture, and spiral staircase make this lighthouse a popular attraction for those vacationing on the Outer Banks! Impress your family and friends with some interesting facts about this marvel:  
The lighthouse features spiraling black and white paint that mimics the look of a candy cane.

Guests must climb 257 steps up the spiral staircase to the top.

It stands at 208-feet tall and is considered the world's tallest brick lighthouse.

The light from this towering beacon beams 20 miles into the ocean.

The ascent up the stairs equals the climb of a 12-story building.
Dive into Local History
The history of this lighthouse appeals to traveling history buffs and curious locals alike! Learn about the beacon's fascinating history before adding a visit here to your list of things to do on the Outer Banks.
Builders erected the first version of this lighthouse in 1803, but it did not adequately serve passing ships in protecting them from the dangerous Diamond Shoals.

The government instructed builders to add 60 feet to the height in 1853.

After weathering rough storms, the community decided to rebuild the lighthouse from scratch. The new-and-improved version first shone its light in December of 1870.

This lighthouse withstood storms, but it could not resist beach erosion. In 1999, they moved the lighthouse inland 2,900 feet. This is the same lighthouse that you can climb to this day!
Know Before You Go
The lighthouse is open for climbing seasonally from the third Friday in April until Columbus Day. Visitors can access the lighthouse between the hours of 9 a.m. and 4:30 p.m. Check to see pricing for access to the Cape Hatteras Lighthouse and other areas of the Cape Hatteras National Seashore. Additionally, be sure to look for the perfect gift for a friend or a souvenir for yourself at the gift shop on the way out! If you're not looking to spend the extra money, take lots of pictures of the lighthouse and the views you receive from the top of the climb, then frame them as keepsakes!
Additional Outer Banks Lighthouses
The Cape Hatteras Lighthouse is one of four lighthouses on the Outer Banks! Make a point to visit as many of these magnificent towers as you can:
Bodie Island Lighthouse

Roanoke Marshes Lighthouse
Stay in a Paramount Destinations Vacation Home
The Outer Banks boasts an array of exciting attractions and outdoor adventures such as visiting the Cape Hatteras Lighthouse. To make the most out of your beach vacation, stay in a Paramount Destinations vacation rental! Our homes feature outstanding amenities, comfortable accommodations, and unparalleled views of our beautiful region. Be sure to check out our Paramount Perks to see what kind of deals you will receive for staying with us! Our guests have access to discounted rates on things like: