Choose your own adventure at the best Outer Banks water park. From buried treasure and whirling waters to plunging slides and lazy rivers, the whole family will have the time of their lives at H2OBX Waterpark! Take a break from the heat and dive into all the amusements the park has to offer. This family-friendly attraction provides the perfect opportunity for children and their parents to bond over thrill rides or soothing wave pools. Round up the kids for a day of fun!
Spending your day at the Outer Banks water park makes for an excellent opportunity to entertain everyone in the family. Many of the rides honor Outer Banks history with themes that feature legendary pirates and wild horses. Keeping your teenagers or younger kids amused on a family vacation can be a challenge at times. Luckily, our thoughtful vacation guide provides excellent dining, sightseeing, and adventuring suggestions that appeal to all ages. Don't let your summer planning overwhelm you! We did all the research so that you can spend more quality time enjoying each other's company.
Cool Off at the Outer Banks Water Park
Thrill Rides
Some people live for the adrenaline rush that comes as a result of flying down a waterslide at high speeds. Do you live for the rush? If yes, then you need to check out the wild thrill rides at H2OBX! Dare each other to take the plunge! With exhilarating rides such as the Dune Runner, Midnight Marauder, and the Plank, you're in for a rousing adventure!
Family-Friendly Rides
Band together for the exciting family-friendly rides! Take on the Deep Six Adventure Lagoon and Queen Anne's Revenge as a team or catch some waves in the Cat-5 Wave Pool! For something more relaxing, float down Teach's Tides Adventure River. How will you choose to spend your day at the park?
Kiddie Rides
It may come as no surprise that kids love the water park! No matter how small you are, you can still make a big splash at H2OBX! The kiddie rides include interactive play structures and fun-sized slides! Watch your little ones twist and turn on the Turning Tern slide and delight in the moment when you see the look on their faces that shows just how much fun they are having! The Sand Pail Beach makes a great stop to let them run around with your supervision.
Water Park Extras
If you're making a trip to the water park an all-day occasion, consider renting a cabana as a home-base for the family! The stunning views of Outer Banks' surrounding natural beauty make H2OBX special in comparison to other amusement parks. While the kids chase each other around the park, adults can kick back and enjoy the salty breeze and gorgeous scenery.
The Best Outer Banks Vacation Homes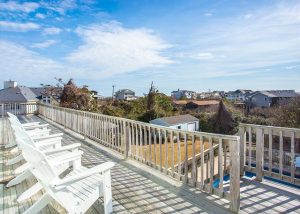 Paramount Destinations offers discounted tickets and coupons for the Outer Banks water park! We like to treat our guests with special perks when they choose to stay in one of our lovely properties. The outdoor adventures don't stop with H2OBX. We teamed up with other business to provide special pricing for horse tours, parasailing, and more!
Make the winning move when you stay in our Checkmate property in Southern Shores. This beautiful home sleeps up to 13 people and comes with a private pool. Take advantage of quality amenities and allow us to make all your vacation dreams come true!