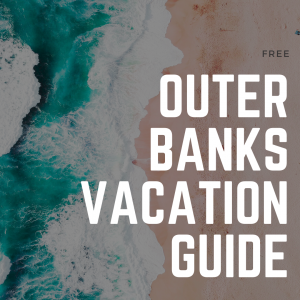 Views from the Outer Banks are always breathtaking, but wait until you see what's below the surface! If you have a scuba diving certification, head out to the open water, and experience the best Outer Banks diving. The North Carolina coast is one of the most fascinating spots for scuba diving and is known as "The Graveyard of the Atlantic." But, before we dive into everything you need to know about gearing up for the water, make sure to check out our free Vacation Guide. This handy tool includes incredible activities to make your OBX vacation special. Find everything you need to know, from where you should eat to where you can enjoy a scenic walk. 
Your Ultimate Guide to Outer Banks Diving
The Graveyard of the Atlantic
Did you know that the Outer Banks coast is home to about 3,000 shipwrecks that date back to the first English settlement in America? Centuries ago, the Outer Banks was a hot spot for sea trading and exploration. This led to numerous shipwrecks. And, you can get a glimpse of this part of history for yourself when you strap on an air tank and a mask!
Triangle Wrecks
It's crazy how close to shore some of the shipwrecks are! You can actually see two shipwrecks just 200 yards offshore. The Kyzickes wreck and the Carl Gerhard wreck sit only 15 to 20 feet below the surface! Head over to the shores of Kill Devil Hills to get a glimpse of the two shipwrecks that form a triangle on the ocean floor.
The Huron
Shipwrecks that are near the shore are easy to access, whether you decide to explore by scuba diving, snorkeling, or even kayaking. The U.S.S. Huron is another shipwreck site near land. This underwater treasure is also about 20 feet deep and is 150 feet offshore from Nags Head. Check out this Outer Banks dive site to see the consequence of boating too close to the shore during an 1877 storm.
German U-Boat Shipwreck
Dive into history with an excursion to the U-352 shipwreck site , which is more than 100 feet deep in the Atlantic Ocean. This site is perfect for intermediate or advanced divers. Swim through the wreckage from a WWII attack in 1942 and encounter beautiful fish and maybe even some sharks!
Pick a Scuba Dive Shop
There are several full-service dive shops on the Outer Banks to help get you in the water and well-equipped for adventure. Here are some great OBX dive centers to choose from.
A Relaxing Getaway for Scuba Divers
After exploring the deep blue with an Outer Banks scuba diving trip, relax and recharge in the best OBX vacation rentals. We offer beautiful, large vacation homes on the beach, perfect for your next NC adventure.
Sea the Green is a gorgeous Corolla vacation rental by the ocean. Bring your best pals, family, and pet to this seven-bedroom dream home. If you can't get enough of summer days by the water, you'll love the private pool and stunning Currituck Sound views! Check our availability and see what we have in store for your next coastal getaway!