The Outer Banks is home to some of the most impressive stretches of shoreline on the East Coast, and Whalehead is no exception. Featuring 39 acres of land along the Currituck Sound, Whalehead Corolla is one of the most sought-after Outer Banks destinations. Gorgeous beaches, a unique history, and an incredible number of exciting things to do are waiting around every corner. Before you start planning your getaway, don't forget to take a look at our complimentary Vacation Guide. In it, you'll find some of the area's best restaurants, attractions, and things to do, making it the ultimate resource for planning an unforgettable Outer Banks vacation! 
Whalehead Corolla
The Whalehead Club 
One of the National Register of Historic Place's premier destination is the Whalehead Club in Corolla, NC. You can't travel to Currituck Sound without paying a visit. This perfectly preserved and historically significant art-nouveau-style mansion was built by Edward Collings Knight Jr. as a lavish hunting retreat in 1925. The Knights used the house to entertain friends and serve as a home base for their winter hunting expeditions in the Outer Banks. Today, nearly 100 years later, the home is restored to its former glory and is open all year for tours! Check it out on your next visit! 
Whalehead Beach
If you're planning a visit to Whalehead Corolla, the beach is probably what you're most interested in. The beaches opposite the Currituck Sound offer windswept sand dunes and gentle waves. There is plenty of public beach access in the area, but parking fills up extremely quickly in the most popular months of the year (June, July, Augst). So, if you want to make sure you grab that perfect spot in the sand, get to the beach before 10 or 11 a.m! 
Things to Do in Whalehead Corolla 
One of Whalehead's most popular attractions (outside of the beach) is the Currituck Beach Lighthouse. This historic landmark can be seen from miles away and has served as a guide for Atlantic voyagers since 1875! After you've toured the lighthouse, explore the area's stunning wildlife in the Historic Corolla Park that surrounds the Whalehead Club. Additionally, the area is home to some of the best restaurants in the Outer Banks for when you need to fuel up for your next adventure! 
Where to Stay Near Whalehead Beach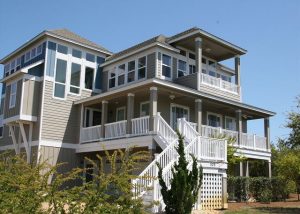 From intimate seaside cottages to large family homes, Paramount Destinations offers an extensive selection of lodging options to choose from. For instance, Our Mulligan is a gorgeous home that offers jaw-dropping views of the Atlantic Ocean, and in-home elevator, and even a private pool! 
This incredible home is just minutes from all of the best shops, restaurants, and area attractions. Don't wait to start planning your family beach vacation! Browse all of our available properties and start planning our Outer Banks getaway today.