Athletes from all over race to the North Carolina coast for the Outer Banks Triathlon. The competitive, two-day event is fun for everyone, including the athletes and the spectators! After all, the race ends with free beer and food for the athletes. Before you lace up your running shoes, make sure to check out our complimentary Vacation Guide! It includes a list of amazing restaurants, entertainment, and outdoor activities to make your Outer Banks vacation the best one yet.
What You Need to Know About the Outer Banks Triathlon in Manteo
The Outer Banks Triathlon is hosted by the Outer Banks Sporting Events, an organization that strives to promote sports competition and healthy living resources. Athletes who plan on participating in this exciting event should be prepared to run, swim, and bike around OBX. If a triathlon is on your bucket list, it's time to head over to the Outer Banks!
Choose Your Triathlon
When registering for the race, select from three triathlon options. You can choose the Sprint Triathlon, Olympic Triathlon, and Half Triathlon. 
The Sprint Triathlon:
750 meters (0.465 miles) of swimming

20 kilometers (12.5 miles) of biking

5 kilometers (3.1 miles) of running
Olympic Triathlon
1500 meters (0.93 miles) of swimming

40 kilometers (25 mi) of biking

10 kilometers (6.2 mi) of running
Half Triathlon
1900 meters (1.2 miles) of swimming

 90 kilometers (56 mi) of biking

 21.1 kilometers(13.1 mi) of running
Prepare for the Race
The first step to preparing for the day is to pick up your packet the day before. Packet pickup is at the Old Swimming Hole on Roanoke Island. Park in the field across from the aquarium and head towards the pavilion by the water. Don't forget to bring a photo ID and bib number! There will be a separate line for anyone who doesn't know their bib number. Then, make sure to drop off your bike and gear at the same pick-up location the night before.
Race Day
It's go time! Lace up your running shoes and put on your best running, swimming, and biking attire before heading to Fort Raleigh National Park. Give yourself plenty of time before the race starts to park your car, get settled, and of course, mentally prepare for the exciting day. Then, take a shuttle to the starting line. It's time to show everyone what you're made of!
Celebrate Your Accomplishment
After you've completed the triathlon, it's party time! Head over to the post-race party for the celebration you deserve. Bring your friends and family to commemorate your achievement over fantastic food and beer. For more ways to celebrate, check out our list of Things to Do on the Outer Banks.
Rest and Recharge in a Paramount Destinations Luxury Vacation Rental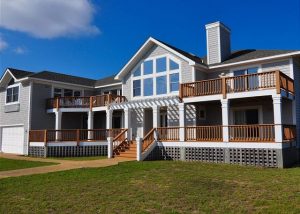 Sleep is the most important thing before a big race, and we want to make sure you're comfortable and well-rested. Relax in one of our elegant, Outer Banks vacation rentals to get the rest you need.
Unwind in our gorgeous Silver Creek rental in Southern Shores. This beautiful beach home accommodates 14 people so the whole family can support you on your big day. Make family memories when you spend time with your loved ones by the private pool, or cook a fantastic meal on the charcoal grills. What are you waiting for? The perfect Outer Banks vacation awaits! Check our availability and book your stay today.