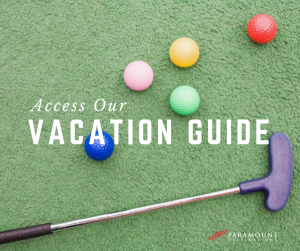 The kid-friendly nature of the Outer Banks attracts families to this charming stretch of beaches year after year. In addition to all of the outdoor adventures and water sports, visitors encounter an array of fun activities like adventure parks, arcades, learning museums, and more! Break up the relaxing pace of your vacation and challenge your kids to a round of putt putt at some of the best Outer Banks mini golf courses! Find a golf ball in your lucky color and prepare for an exciting day full of memories that will last a lifetime. Whether you opt for a 9-hole or 18-hole game, you won't regret taking the time out of your laid-back getaway to spend quality time with the people who mean the most.
The Best Outer Banks Mini Golf Courses
Corolla Adventure Golf
Choose from three different 9-hole courses at Corolla Adventure Park! With plenty of mini golf challenges suitable for all ages, the whole family will enjoy spending the day here! After the game, head to the Spin Zone for endless laughter and smiles on the bumper cars!
The Grass Course
Practice putting like a pro on an all-natural, 20-hole mini golf course at the Grass Course in Corolla. It's a great place to warm up for some of the best Outer Banks golf courses! Admire breathtaking views of the sound and grab a quick bite from the at the clubhouse before heading back to your vacation home.
Pirate Island at Corolla Light Town Center
The Outer Banks is known for its maritime and pirate history. Let your kids' imaginations wander at Pirate Island's Golf Course and Arcade. You'll encounter waterfalls, pirate ships, caves, skulls and so much more. They even have an arcade if you're up for some virtual bike racing or ski ball!
Galaxy Golf
The course at Galaxy Golf is out of this world! Children of all ages love the outer space themes. Be on the lookout for aliens, UFOs, and even an elephant from a distant planet. The prices at this course are very affordable, making it an excellent option for families looking for something to do!
Lost Treasure Golf
Continue the hunt for Blackbeard's treasure at the Lost Treasure Mini Golf Course in Kill Devil Hills. Climb to the top of a mountain on a mining car and putt your way down encountering gold, diamonds, pirate ships, waterfalls, and more!
Stay at Paramount Destinations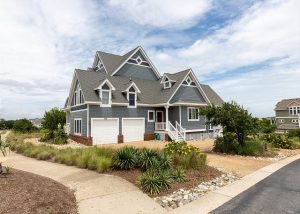 Playing a few rounds of putt putt at the best Outer Banks mini golf courses is one of the best things to do during your family vacation! Stay near all the best local attractions and restaurants when you stay in a Paramount Destinations vacation home! Our Doc's Landing property in Corolla makes the perfect home away from home for families! Lounge around the private pool after spending the day on the beach! Because this home is located in the Currituck Club, you and your family will have access to exclusive amenities such as the championship golf course, game room, and tennis courts! What are you waiting for?