Are you searching for the closest airport to the Outer Banks? The answer varies depending on where you are staying along the 200-mile string of barrier islands. While many of our visitors fly into Norfolk International Airport or Raleigh Durham, there are also several smaller airports that are much closer to the islands. Here are some of our top recommendations! For more local tips about the area, make sure to request access to our free Outer Banks Vacation Guide!
Major Airports Near the Outer Banks
Norfolk International Airport
If you prefer to fly into a major airport, then Norfolk International is the closest airport to the Outer Banks. Just 82 miles north of the islands, the drive from Norfolk Airport to the Outer Banks takes approximately 2.5 hours. When you land, you can rent a car from one of eight on-site rental companies. Or, take an Outer Banks airport shuttle to your final destination. Servicing most major cities worldwide, this is one of the most popular options for flights to the Outer Banks, NC.
Raleigh Durham International Airport
Another option is Raleigh Durham International Airport, which is 192 miles from the Outer Banks. Although this airport is a further away, the drive to the islands is incredibly scenic. Along the way, you'll pass long bridges, gorgeous waterways, and several fast food options. The drive from Raleigh to the Outer Banks to take anywhere from four to five hours. Buckle up and enjoy the views!
Other Small Airports in the Outer Banks
In addition to the two major airports in our area, there are several regional airports here. Although smaller in size, the following are much closer to the islands:
Dare County Regional Airport
Located one mile from Manteo, this public airport has two runways and is owned by the County of Dare. Operated by a nine-member crew, the airport is small but efficient. It operates with AWOS weather service, DME, VOR, and ADF navigational equipment. There is also an on-site museum located in the west end of the terminal building. If you choose to fly into this airport, make sure to stop by and browse through the WWII artifacts, photos, and documents on display.
This public-use airport is just one nautical mile east of Ocracoke Island. Owned by the U.S. National Park Service, the Ocracoke Island Airport is located on the Cape Hatteras National Seashore. On-site is a 3,000-foot-long runway and a helipad. It is operated by the North Carolina Department of Transportation.
Also located on the Cape Hatteras National Seashore in Frisco, NC, the Billy Mitchell Airport is available for public use. This airport was named after General Billy Mitchell, a WWI pilot who is regarded as the father of United States Air Force. It is also very close to the Cape Hatteras Lighthouse. Owned by the U.S. National Park Service, it has limited facilities and is only open during daylight hours.  
Also called Kitty Hawk Airport, the First Flight Airstrip is in Kill Devil Hills, NC. It is owned by the U.S. National Park Service and open for public use. Undoubtedly the most famous airport closest to the Outer Banks, this was also the site of the Wright Brothers first flight in 1903. Presently, this runway is mainly used by small Cessna aircraft. However, it is still a wonderful place to visit! While you are there, make sure to check out the nearby Wright Brothers Memorial for a truly unforgettable experience.
Currituck County Regional Airport
This county-owned, public-use airport is four miles from Currituck. Built by the U.S. Air Force in 1942, it was originally used as an emergency landing airfield for military planes. Now, it is used as a general aviation facility with one runway.
Where Are the Best Accommodations in the Outer Banks?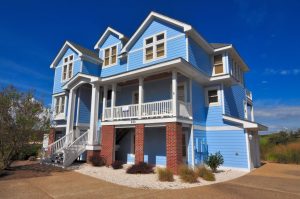 Once you book flights to the closest airport in the Outer Banks, you'll need to find accommodations for your stay! Allow Paramount Destinations help you find your perfect home-away-from-home. We offer a wide range of family-friendly vacation rentals in Corolla, Duck, Southern Shores, and The Currituck Club. From intimate beachside cottages to large family estates, we are sure to have the ideal property for your stay. Each of our homes comes fully-equipped with luxurious amenities, Wi-Fi, cable TV, and central air conditioning. Many of them also feature private pools, hot tubs, and views of the ocean or Currituck Sound. Plus, all of the best area attractions, shops, and air tours are just minutes away!
Located in The Currituck Club, Pinch Me is a wonderful option for your next vacation. This fabulous 5-bedroom home features a secluded location, a private pool, and exclusive access to luxurious resort amenities. So, what are you waiting for?  Browse all properties and book your Outer Banks getaway today! We can't wait to welcome you!
Don't get tricked! Save money when you book direct. Booking through third-party websites can often lead to hidden costs and fees. Our Outer Banks rental rates are clear as a bell so you can have the best OBX vacation experience!