Are you planning an OBX girls' night out? Perhaps you are searching for the best family-friendly entertainment in the Outer Banks. Whether you're looking to keep it casual or dance the night away, there are endless nightlife options throughout the islands. From waterfront bars and restaurants to clubs and local hangouts, here are some of the best OBX live music venues. Make sure to request access to our complimentary Vacation Guide for even more great tips about entertainment, nightlife, and attractions in the Outer Banks!
Here Are Some of the Best OBX Live Music Venues
Kill Devil Hills:
When it comes to nightlife in Kill Devil Hills, this lively restaurant and bar should be at the top of your list! The venue itself is rustic yet elegant, with sparkling chandeliers, Victorian furnishings, and a spiral staircase. However, the overall atmosphere is very casual and laid back. You can catch live music on the main stage almost every night. Performers include new artists, returning bands, local legends, comedians, and more. From reggae and Latin music to club beats and rock and roll, there is something for everyone to enjoy here! Check out their event schedule to see a list of all upcoming shows!
Rooster's Southern Kitchen
If you're looking for dinner and a show, we highly recommend Rooster's Southern Kitchen. As well as excellent Southern cuisine, this restaurant offers great live music seven nights a week! Bring the whole family and enjoy great eats and relaxing acoustic tunes. You can see a list of upcoming performances on their website.
Awful Arthur's Oyster Bar
With a hip atmosphere, ocean views, and some of the best oysters you will ever taste, Awful Arthur's Oyster Bar is another great place to go for dinner and live music. There's a very good reason this restaurant was named one of the "Top 10 Oyster Bars in the Nation" by Coastal Living magazine! Choose a table in the lounge, order a plate of oysters, and enjoy live music while you gaze at the Atlantic. Check out the restaurant's Facebook page to see when performances are scheduled.
Duck:
Whether you're young or young at heart, the Duck Amphitheater is sure to keep the entire family entertained! Located near the boardwalk, this grassy outdoor venue hosts a variety of events including magic shows, evening concerts, sing-along children's shows, interactive theatre and more. The best part? Almost all of these family-friendly events are free and open to the public. Don't miss out on the Duck Jazz Festival or the annual Yuletide Celebration! Visit the town's website for a complete list of upcoming events. See for yourself why this is one of the best places to go for live music in Duck, North Carolina!
Sunset Grille and Raw Bar
Are you looking to hit up the best pool party or beach bash in the Outer Banks? Head to Sunset Grille and Raw Bar! This lively venue is a favorite hangout for locals and visitors alike. Stop by on a Sunday to listen the hottest new beats and great specials. On almost any other night of the week, you can also catch live music performances beginning at 6 p.m. Check out the restaurant's website to see a complete list of upcoming events!
Corolla:
The Shack Coffee Shop and Beer Garden
What could be better than a venue that offers coffee, beer, and OBX live music? This eclectic bar offers in-season music every afternoon and evening. The outdoor patio is kid-friendly and pet-friendly until dark. After the sun sets, adults can come back for the fun atmosphere, great drinks, and fabulous music! 
During the summertime, Mike Dianna's Grill Room hosts local, regional, and even national bands! Don't miss the Mustang Midsummer Meltdown, one of the hottest rock music festivals in the Outer Banks. Other popular headliners that frequent Mike Dianna's include Mercy Creek and South Hill Banks.
Kitty Hawk/Southern Shores:
When it comes to OBX music, Trio in Kitty Hawk is one of the best entertainment venues around! This restaurant features local artists and visiting performers several nights each week. The lineup includes acoustic rock, bluegrass, jazz, alternative, blues, country, r & b music, reggae and more. Music begins at 7:45 p.m. most nights. On Tuesday, shows begin at 6 p.m. and on Sundays, they begin at noon.
Nags Head
During the season, Fish Heads Bar and Grill features live music every night of the week! As well as offering beautiful views of the beach, this oceanfront restaurant is one of the best places to enjoy OBX live music. Order an ice-cold beer and listen to acoustic guitar jams, smooth jazz, or rock and roll. Or, visit during karaoke night and put your own vocals to the test! Visit the restaurant's website to see a complete list of upcoming shows.
Mark Your Calendar for These Upcoming OBX Music Festivals
If you're looking for music festivals in the Outer Banks, you're in luck! No matter what genre you are interested in, we have a little bit of everything here. See all the best local and celebrity musicians play at the Outer Banks Bluegrass Festival, jam to some amazing rock and roll beats at the Mustang Music Festival, or get your groove on at the Duck Jazz Festival!
Book Your Stay With Paramount Destinations
When it comes to lodging options in the Outer Banks, let Paramount Destinations help you find your perfect home-away-from-home! We offer a wide array of luxurious vacation rentals in Duck, Corolla, Southern Shores, and The Currituck Club. Whether you're searching for a pet-friendly vacation rental, a home with a private pool, or an oceanfront property, we are sure to have the ideal accommodations for your stay. Each of our vacation rentals is just minutes away from OBX live music, nightlife, dining, and more!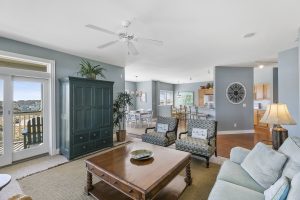 Are you ready for a vacation you will never forget? Browse all available accommodations and book your Outer Banks getaway today! We can't wait to welcome you.