Do you work from home, but catch yourself daydreaming about your next vacation? Well, what if we told you that you could have it all? Ever since the pandemic, more and more companies have been transitioning from working in the office to working at home, giving remote workers a lot more freedom when it comes to how they choose to get things done. Since the times are changing, why not work from vacation? There are so many benefits of working remotely on the OBX. Read on for more reasons why you need to go on a vacation to the Outer Banks of North Carolina. 
If you need help figuring out what to do on your lunch break or for happy hour, make sure to request access to our complimentary Vacation Guide. We've included local insight on the best restaurants, bars, shopping, and outdoor recreation to give you the best vacation yet. Unlock the guide and get started. 
The Benefits of Working Remotely on OBX
1. The Change of Scenery Will Spark Your Creativity
Home offices and the way they are set up play a big role on productivity. Since working from home can get boring and repetitive, change up your scenery and give yourself a view that inspires creativity. Many of our vacation rentals have incredible workspaces like wrap-around porches with ocean views, kitchens with plenty of counter space, and living rooms with comfortable seating areas. 
2. Better Focus
Start your day off with yoga or meditation by your pool, so that you can begin a workday with a clear mind. You're sure to have a productive day while working in a quiet workspace in your vacation rental. Or, you can explore some of the fantastic coffee shops on the Outer Banks if you need a caffeine boost and a great atmosphere. 
3. An Easy Switch Between Work and Play
It's so easy to switch between work and play when you have a private pool or beach access just steps from your door! It's the best way to take a breather between Zoom calls! Then, enjoy happy hour at some of the best bars, restaurants, and nightlife spots to unwind after a productive workday! 
Pick an Outer Banks Vacation Rental 
With
 the 
Perfect Office View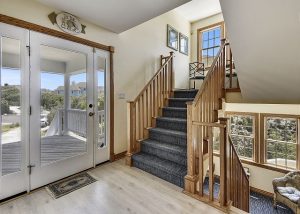 Make the most of your next stay on the Outer Banks of North Carolina, when you choose to stay with Paramount Destinations! Our vacation homes offer the best amenities on the OBX, including beach access, private pools, hot tubs, decks, and Currituck Club access to amenities like tennis courts, golf courses, and more! 
Stay in one of the best Corolla communities when you book our Water Lily rental in the Pine Island community. This 5-bedroom dream home is ideal for your family vacation because it accommodates 14 people. Plus, the kids can the Pine Island Beach Club large pool, kiddie pool, snack bar, and deck games while you work remotely! Hurry, and book your stay today!