When it comes to planning your vacation, accommodation is a critical factor that can make or break your experience. While cookie-cutter hotels offer a familiar setting, staying in a unique beachside vacation rental with Paramount Destinations provides a world of difference. Let's delve into the distinctions and discover why booking directly with a vacation rental management company offers a more authentic and hassle-free experience during your getaway to the Outer Banks.
Hotel vs. Vacation Rental
1. Personalization and Space
You're often confined to standard room layouts and minimal personalization in a hotel, even at a beach destination. On the other hand, vacation rentals offer a diverse array of homes, condos, and cottages, each with distinctive character and décor. You can choose a space that suits the specific needs of your group. Find a rental that fits your group size, number of bedrooms needed, location, etc. You can choose from a cozy beachfront cottage or a spacious oceanfront mansion. Enjoy the comfort of a home away from home, complete with kitchens, living areas, private bedrooms, decks, outdoor dining areas, barbecue grills, outdoor showers, on-site parking, and easy access to the beach.
2. Location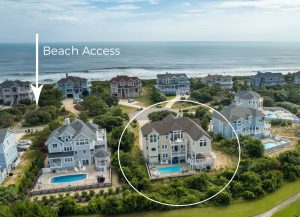 Cookie-cutter hotels are typically situated in busy tourist districts, often far from the beach. In contrast, Paramount Destinations' vacation rentals are strategically located, offering easy beach access and a front-row seat to the scenic beauty of the Outer Banks. Wake up to the sound of crashing waves and savor the unique coastal charm. We offer our guests the opportunity to search for a vacation rental by area to find the perfect accommodation in the OBX community of their preference. We have a place for everyone from Duck to Nags Head and Corolla. Proximity to local attractions and dining may be important to some guests, while seclusion may be more important to others!
3. Privacy and Seclusion
While hotels can be bustling with guests, vacation rentals provide privacy and seclusion. Enjoy your own private deck or balcony, where you can take in the stunning ocean views without the distraction of other guests. Your family and pets can spread out and enjoy the indoor and outdoor spaces!
4. Convenience and Amenities
Vacation rentals come fully equipped with everything you need for a comfortable stay. You'll have a full kitchen for cooking, washer/dryer facilities, and entertainment options such as Wi-Fi and cable TV. There is no need to rely on hotel restaurants or expensive room service. Additional amenities to consider when searching for a vacation rental include private pools, hot tubs, elevators, putting greens, grilling areas, direct beach access, and more. Click here to see a complete list of standard amenities that you can expect from our Outer Banks vacation rentals.
5. Local Expertise
Paramount Destinations' team lives and breathes the Outer Banks. They're here to provide local insights, restaurant recommendations, and insider tips to enhance your vacation experience. Hotels may offer concierge services, but the knowledge of the local area is what truly sets vacation rental management companies apart. Our local vacation experts are standing by to help make your next OBX vacation the best yet.
6. Flexibility and Pet-Friendly Options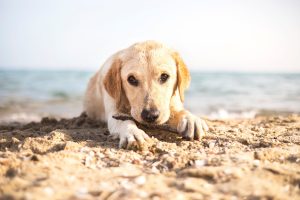 Many vacation rentals with Paramount Destinations are pet-friendly, allowing your furry family members to join you on your beach vacation. Hotels, on the other hand, may have stricter policies when it comes to pets. Our pet-friendly accommodations make it easy to walk your dog, often with green spaces included. Save hundreds in boarding fees and hotel hassles by bringing your four-legged family member on vacation with you! They love the beach too!
7. Booking Directly
Booking your vacation rental directly with Paramount Destinations ensures a hassle-free process. Say goodbye to third-party booking platforms and hidden fees. You'll enjoy a direct line of communication with the local experts who can assist with any special requests or concerns.
8. Paramount Perks
Paramount Destinations works directly with several local businesses to offer guests a generous discount. Paramount Perks include discounts on rental equipment, wild horse tours, photography services, and more.
9. Specials
We are happy to offer guests special discounts on Outer Banks rentals. Our specials are perfect for those seeking a last-minute deal on Outer Banks vacation rentals. Some homes offer returning guests a discount as a way to reward their repeat customers and help them save money!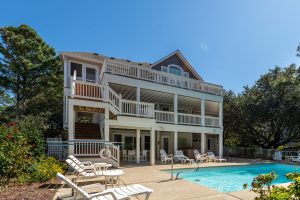 In conclusion, when considering a hotel vs. vacation rental, we hope you have enough information to make the right decision for your vacation needs. Nothing beats the authenticity and uniqueness of staying in an oceanfront vacation rental or sound side bungalow with Paramount Destinations.
You're not just a guest but part of the Outer Banks experience. From personalized spaces and authentic locations to the convenience of home-like amenities, a vacation rental offers a one-of-a-kind journey.
When planning your next Outer Banks adventure, consider booking directly with Paramount Destinations and unlock the true spirit of coastal relaxation.