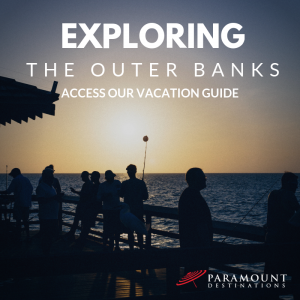 Outer Banks fishing piers set the scene for a serene experience enjoying the warm weather and the sound of waves crashing. At the same time, catching a fish can be quite a thrill! Whether you're spending quality time with your kids or fishing solo, you're bound to have a blast on North Carolina's beautiful barrier islands. Continue reading to learn more about the best piers and check out our thoughtful Vacation Guide for more suggestions on what to do in the area during your visit!  
3 of the Best Outer Banks Fishing Piers
Did you know that many of the piers have their own webcams? Be sure to check them out as you're searching for the perfect spot to cast your line!
1. Avalon Pier
The Avalon Pier in Kill Devil Hills is open during the summer from 5 a.m. to 2 a.m., and in the spring and fall, it is open from 6 a.m. to 10 p.m. Visitors must pay a $12 daily rate. They do offer 3-day, week, and season passes for those who plan to fish often during their stay. You can even purchase bait on the pier!
2. Nag's Head Fishing Pier
The Nag's Head Fishing Pier and Pier House Restaurant serve as a great spot to spend your day. One thing that makes them especially unique is that they have a "you hook 'em we cook 'em policy." They offer various passes, and they also have an on-site tackle shop where you can load up on the best gear you need for a successful fishing day.
3. Jennette's Pier
Experience some of the best fishing on the East Coast from Jennette's Pier! It stretches over the ocean for 1,000 feet and allows you to fish for bluefish, cobia, mahi-mahi, red drum, mackerel, trout, flounder, and more! The pier is open year-round. Be sure to check out their site for hours and pricing!
More OBX Fishing
Fishing on the Outer Banks is an excellent way to relax and unwind under the warm rays of the sun. Whether you prefer fishing off the pier, surf fishing, or deep sea fishing, you're bound to reel in a great catch. You might even enjoy the newer trend of kayak fishing out on the sound or in the ocean.
Stay with Paramount Destinations
Paramount Destinations vacation rentals adorn the coast and make the perfect home away from home for your dream family vacation. Regardless of whether you stay in Corolla, Duck, Southern Shores, or Nags Head, you can expect to be near some various Outer Banks fishing piers and charters. Additionally, you will be within proximity of some of the best restaurants, breweries, and more exciting things to do. It also doesn't hurt that we offer various Paramount Perks so that our guests can save money on some of our favorite local attractions such as Corolla horse tours!
What are you waiting for?