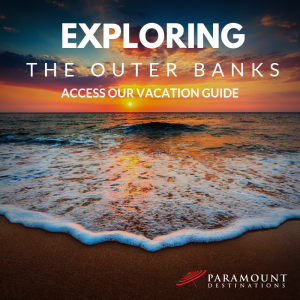 Welcome to your guide for Outer Banks lighthouses. Beach vacationers and locals alike are drawn to the majestic beauty of these towering giants of the Atlantic. Whether you visit one or all six of the North Carolina lighthouses listed here (which include a few local gems that you won't find on an ordinary Google search), you will certainly be glad you took the time to make vacation-perfect memories and snap a few Instagram worthy photos of these national treasures.
These six lighthouses are listed in order from north to south and are all an easy day trip from your Outer Banks vacation rental. Used to guide the way for mariners through the last two centuries, they contribute to the barrier islands' coastal charm and are iconic North Carolina landmarks.
Climb flights of stairs in a black and white, candy-cane-striped beacon or a red-brick tower. Then learn about the history and significance of these structures through park rangers or self-guided tours. Most importantly, you can revel in the glorious waterfront views when you reach the top of some of the tallest lighthouses in the United States! Read on to learn about the regions' lighthouses and be sure to check out our Vacation Guide for more attractions to include in your OBX itinerary.
6 Outer Banks Lighthouses You Have to Visit
Know Before You Go
A little planning can make your day (or days) of lighthouse viewing a successful endeavor. Whether you plan to observe from the ground or climb the open lighthouses, there are a few items that you will want to carry with you. Water, appropriate shoes and clothing, a camera, small backpack or fanny pack, binoculars, a snack, sunscreen, and bug spray should all be considered. Please keep in mind that climbing a lighthouse should only be attempted by those who are able to climb multiple sets of stairs with no issues (Bodie Island Lighthouse is equivalent to 10 stories). With no air conditioning inside most lighthouses, they can become hot and humid during summer months, as one might expect.
While most of our lighthouses are available for viewing year-round, they may not be open year-round. Please plan accordingly and pay attention to details before heading to your lighthouse of choice. Weather can also play a role in your outing, as lighthouses may close due to thunder, lightning, or other inclement weather. Keep all the above in mind as you prepare for your epic lighthouse adventure.
Outer Banks Lighthouses You Have to Visit
Currituck Beach Lighthouse
Corolla, NC
You can find the Currituck Beach Lighthouse towering over the historic Corolla Village. In service since 1875, this is northern-most lighthouse in North Carolina. Visitors can climb the winding staircase of this red-brick tower, 220 steps, from mid-March to late-November. Admission is $12/person and must be at least four years old to climb (younger children and babies can be worn in a carrier). Enjoy sweeping views from the top of the 162-foot lighthouse of the Currituck Sound, the Atlantic Ocean, and the northern Outer Banks. You may even spot the famous wild horses! Back at the bottom, you and your family can engage in the enriching exhibits on offer. There are several exhibits at the base and on two landings inside the structure.
The lighthouse and museum shop are open daily (seasonal) from 9:00am-5:00pm. You and your family can enjoy the grounds and gift shop free of charge. This beacon is near some of the best restaurants in Corolla and is easily accessible to anyone staying Corolla, Duck, Kitty Hawk, Nags Head, or Kill Devil Hills.
Currituck Beach Lighthouse is located at 1101 Corolla Village Rd, Corolla, NC.
Roanoke River Lighthouse
Edenton, NC
We are adding the Roanoke River Lighthouse to our list of must-see beacons because it may be one that you have never heard of. This local secret is worth your visit on your way on or off the Outer Banks. Located in the quaint coastal town of Edenton, this now decommissioned light once guided watermen and ships on the Albemarle Sound at the mouth of the Roanoke River. First lite in 1885, this light started its journey as a lightship (1835). It has been captured, scuttled, built as a permanent structure, moved, renovated, and even has a replica in Plymouth, NC.
If you love history, North Carolina, salvage, and interesting stories, then this lighthouse needs to make your vacation bucket list. It isn't tall or grand, but that is made up for by a colorful and tumultuous past. This short 35-foot lighthouse, perched atop a seemingly ordinary white two-story structure, is a come-back story that is worth being herd. If you are interested in touring the light during the off-season, you will need to visit the Edenton State Historic Site at 108 N. Broad Street to request a guide. The guide will escort you to the lighthouse for a tour. Starting in March (Tuesday-Saturday, 10:00am-4:00pm), visitors can head directly to the lighthouse to learn from imperative guides about its history and the men who lived and worked there.
While in downtown Edenton, you can enjoy a variety of locally owned shops and eateries.
Roanoke River Lighthouse (the original) is located at 7 Dock St, Edenton, NC.
Roanoke Marshes Lighthouse
Manteo, NC
This is the second of our overlooked lighthouses for you to visit. The Roanoke Marshes Lighthouse is a modest structure on the quiet east end of the Manteo waterfront on Roanoke Island. It serves as an excellent attraction to visit for those who long to be on the water and soak up a little more history, coastal charm, and architecture.
This lighthouse is a replica of the original light that was built in 1877 and stood at the southern entrance of the Croatan Sound in Wanchese, NC. Its purpose was to help sailors and fishermen identify the port. The replica here is fashioned after the third structure that was named Roanoke Marshes Light.
This light may be small, but it is a big part of local history. Located across the street from the Roanoke Island Maritime Museum, you can peruse a variety of artifacts that are within the structure. Manteo is a town with more than meets the eye. Be sure to check out Roanoke Island Festival Park or the Fort Raleigh National Historic Site.
The Roanoke Marshes Lighthouse is located at 104 Fernando St, Manteo, NC.
Bodie Island Lighthouse
Nags Head, NC
Did you know that the Bodie Island Lighthouse is pronounced "Body". While the name of this light is often mispronounced, it does not disappoint as it towers above at 156 feet.
This light embodies the phrase "third time's a charm" and was finally completed in its present form in 1872. Now part of the Cape Hatteras National Seashore and operated by the National Park Service, the Bodie Island Lighthouse also offers a fantastic landscape for bird watching or a picnic.
Located just south of the town of Nags Head, the horizontal, painted black and white stripes of the structure make it stand out against the lush green of the march and the bright blue Carolina sky. Visitors can climb the 214 steps (Seasonal: early May to early October) from the bottom to the top where they can admire vistas of surrounding marshland, maritime forests, saltwater ponds, and more. The cost is $10 for adults/children 12 & over and $5 for seniors/children 11 & under. Tickets should be purchased in advance at www.recreation.gov.
After you leave the Bodie Light, be sure to take a look at the historic Oregon Inlet Life-Saving Station as you head south on Hwy. 12. If you are heading north back towards Nag Head, a visit to Jennette's Pier or Jockey's Ridge State Park may be in order.
This lighthouse is located at 8210 Bodie Island Lighthouse Rd, Nags Head, NC.
Cape Hatteras Lighthouse
Buxton, NC
The Cape Hatteras Lighthouse stands at an impressive height of 208 feet tall and boasts a beautiful spiral staircase of 257 steps, making it the tallest brick lighthouse in the United States! It is also, perhaps, the most iconic.
The candy cane stripes of black and white paint add to the aesthetic appeal of this beautiful, Hatteras Island landmark. It is not currently open to the public to climb due to renovation. Be sure to check back to the National Park Service website for updates. However, it still makes for an excellent addition to your list of things to do in the area! The grounds of the light station are open 24/7. You can learn more about the Cape Hatteras Lighthouse, the Civil War, and other fascinating information at the Graveyard of the Atlantic Museum or by taking the virtual tour below.
Cape Hatteras Lighthouse is located at 46379 Lighthouse Rd, Buxton, NC.
Ocracoke Lighthouse
Ocracoke Island, NC
Welcome to the southern-most of our Outer Banks Lighthouses for this list. If you are up for a ferry ride, head south until you find the Hatteras-Ocracoke Ferry terminal and board the free ferry. This is a 60-minute ferry crossing that has ferry services every 30 minutes to 1 hour depending on the time of year. If you or your children have never ridden on one of our NC ferries, this will be an unforgettable and fun experience.
If the ferry isn't thrilling enough, you will soon find yourself on the quaint and picturesque island of Ocracoke (pronounced Okra, like the vegetable, and Coke, like the drink). You will continue to travel south to Ocracoke Village and follow the signs for the lighthouse. You will feel like you are driving through a small neighborhood, and if you aren't careful you will drive right past the parking lot. There are few parking spaces set directly off the road, with the solid white lighthouse set at the end of a long boardwalk.
The Ocracoke Lighthouse is the oldest North Carolina lighthouse in operation and is maintained by the Cape Hatteras National Seashore and National Park Service. It stands at just 75 feet tall and is one of the smallest lighthouses on the Outer Banks. However, it is still a beautiful sight to see.
Ships and maritime pilots can spot the beacon of light from up to 14 miles into the Pamlico Sound, Ocracoke Inlet, and the Atlantic Ocean. This lighthouse is not open for climbing but the grounds are open for the public. During the high season there is normally a park ranger or volunteer to answer questions and help navigate your Ocracoke Lighthouse experience.
When you are finished at the Ocracoke Lighthouse, you can head back into the village and have lunch at SmacNally's Waterfront Bar & Grill (located on Silver Lake and offering more great views of the lighthouse) or the famous Howard's Pub. Many places on Ocracoke Island are closed during the off season, so be sure to plan accordingly.
There you have it! Six amazing Outer Banks lighthouses for you to visit during your next vacation. Choose an afternoon jaunt from your vacation rental or take a day trip to explore them all. The choice is yours.
Stay in a Paramount Destinations Vacation Rental
With unique attractions such as the Outer Banks' lighthouses, restaurants, and beaches, it comes as no surprise that people travel here year after year. Make the most of your family vacation when you choose to stay in a Paramount Destinations vacation rental. Choose between gorgeous homes in Duck, Southern Shores, or Corolla. You can even opt to stay in an esteemed community such as The Currituck Club, where you'll have access to amenities such as the Clubhouse, a Fitness Center, and the Currituck Club Golf Course.