The Outer Banks of North Carolina is not only famous for its pristine beaches and stunning coastline but also for its incredible population of Corolla Wild Horses. These magnificent creatures have roamed the sandy shores for centuries, captivating visitors with their beauty and untamed spirit. They are decedents of Spanish Mustangs who were shipwrecked along the Outer Banks over 500 years ago. If you're planning a trip to the Outer Banks and want to catch a glimpse of these captivating creatures, we've curated a list of the best places to see the wild horses in their natural habitat.
Would you like to list other amazing things to do on the Outer Banks? Are you interested in additional vacation planning advice? We have curated an entire vacation guide just for you. Get your free copy today!
Where to See the Corolla Wild Horses
Corolla
Corolla is renowned for its wild horse population and is one of the best places to witness these magnificent creatures up close. Take a guided tour or drive along the designated off-road areas in search of the herds. The wide beaches and sand dunes of Corolla provide an ideal backdrop for spotting these majestic animals.
Currituck National Wildlife Refuge
Situated in the northernmost part of the Outer Banks, the Currituck National Wildlife Refuge offers a chance to see not only the wild horses but also a diverse range of wildlife. Embark on a guided kayak tour or explore the walking trails to witness the horses grazing among the maritime forests, marshes, and soundside habitats.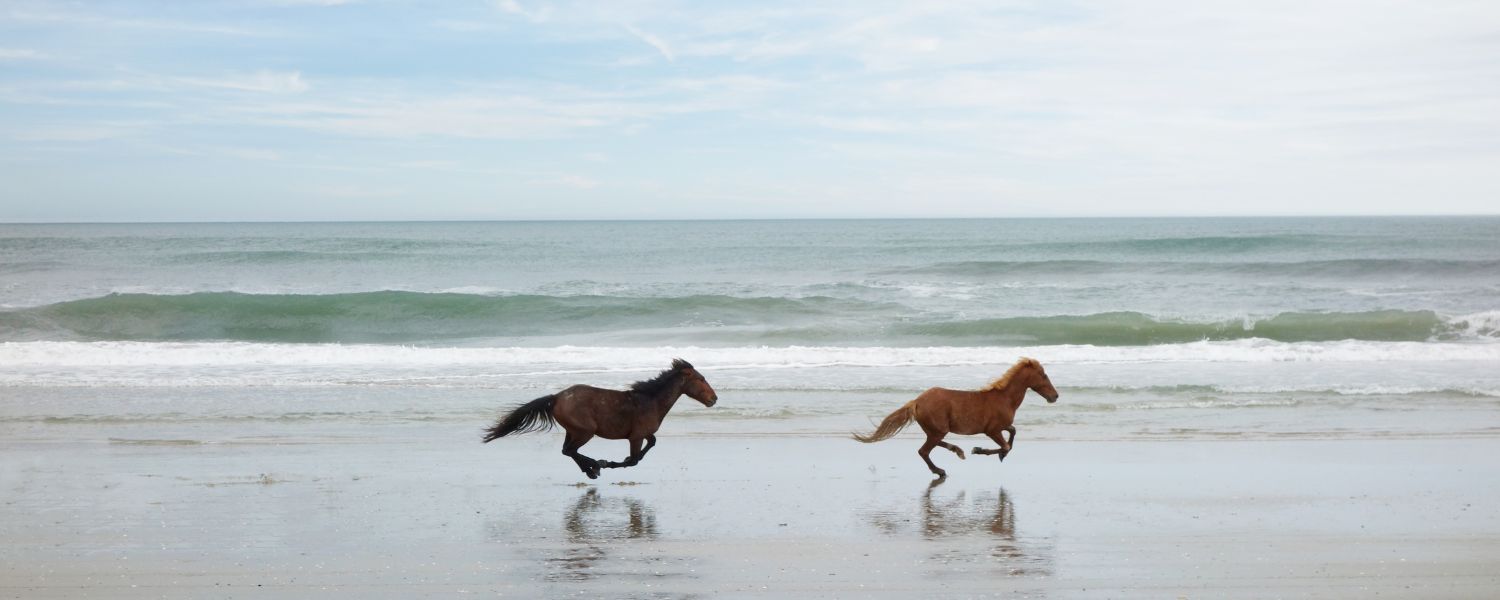 Carova Beach
Carova Beach, located in the northernmost part of the Outer Banks, offers a secluded and pristine environment where wild horses freely roam. Accessible only by four-wheel-drive vehicles, this area provides an exclusive opportunity to witness the horses in their natural surroundings without the distractions of crowded beaches.
Take A Guided Tour
Consider taking a guided tour or joining an experienced local guide who can provide valuable insights about the horses and their habitat. These are numerous guide services available on the Outer Banks. Wild Horse Adventure Tours is our recommended guide service. They provide exclusive access to the Wild Horse Sanctuary. Here, they will take you through three distinct ecosystems in search of the Corolla Wild Horses and other wildlife in one of their open-air Hummers. As a Paramount Destinations guest, your entire party will receive $5 off per individual seat reservation when you book a tour Saturday, Sunday, or Monday.
Things to Remember:
While observing the wild horses, it's crucial to maintain a respectful distance and not approach or feed them. These horses are protected by law, and it's essential to preserve their natural behavior. You must always stay at least 50 feet away from the Corolla Wild Horses.
Observe any posted regulations and guidelines when accessing off-road areas to ensure the protection of the fragile ecosystem.
If you climb to the top of the Currituck Beach Lighthouse, you may be able to spot our wild mustangs. Take a pair of binoculars for easy observation.
Witnessing the wild horses of the Outer Banks during your beach vacation is an awe-inspiring experience. It allows you to connect with the region's rich history and natural beauty, right outside your Corolla vacation rental. Encountering these majestic creatures in their natural habitat is an unforgettable adventure. Remember to approach with respect, observe from a distance, and cherish the opportunity to witness the wild horses in their untamed splendor.
If you are ready to start planning your OBX vacation, be sure to take a look at our 7-Day Outer Banks Itinerary. We have seven days' worth of fun all planned out for you. All you have to do is find the perfect vacation rental for your getaway.