Experience the Magic of Wild Horse Tours in the Outer Banks
Have you always dreamed of seeing wild horses in their natural habitat? Now, you can! The wild horses of Corolla are one of several herds that roam freely along the coast of North Carolina. When you take one of the Outer Banks wild horse tours, you can see these magnificent Spanish Mustangs firsthand.  Read on to learn more about this once-in-a-lifetime experience! Then, be sure to request access to our free Outer Banks Vacation Guide for more great tips about tours, events, and area attractions.
Your Guide to the Best Outer Banks Wild Horse Tours
---
North Carolina's wild horses are believed to be descendants of Spanish Mustangs who were brought to America in the 1500s. Beautiful, wild, and free, it's easy to see why these powerful beasts have enchanted visitors for centuries. The herd is located north of Corolla on an 11-mile stretch of remote land between the Atlantic Ocean and The Currituck Sound. As well as offering breathtaking views, this secluded and natural area protects the horses from urban development. It is accessible by 4-Wheel Drive, which begins at the end of Route 12 (around Milepost 12) in Corolla.
Outer Banks wild horse tours take visitors on an exhilarating 4-wheel drive beach safari out to the herd. Most tours take approximately two hours. There really is no "best time of day" to see wild horses in Corolla, as your guide will know where to find them. For safety reasons, all visitors must stay at least 50 feet away from the horses at all times. The beach speed limit within 300 feet of other persons or animals is 15 mph.
7 Wild Horse Tours to Witness the Natural Beauty of OBX
---
1. Back Beach Wild Horse Tours
View the wild horses in an open safari-style vehicle with Back Beach Wild Horse Tours! This is the perfect option if you are looking for a family-friendly experience. The tours are safe for all ages, even for small children in car seats. Back Beach has large capacity vehicles with seating for up to 14 people. Trucks transition easily from beach driving to the network of sandy roads in the 4WD area. (252) 453-6141; Address: Monterey Plaza 817 B Ocean Trail, Corolla, NC
2. Back Country Safari Tours
From wild horse safaris and segway tours to 4×4 and kayak adventures, there are countless ways to see the Mustangs with Back Country Safari! No matter which tour you choose, trained naturalists will provide you with an up-close look at this area's natural beauty. Back Country Safari Tours has been providing tours here for more than 20 years. As a result, they have been granted exclusive access to private and public preserves that are not accessible to other tour companies.  (252) 453-0877; Address: 1159 Austin Street, Corolla, NC
3. Bob's Wild Horse Tours
Embark on an unforgettable family adventure with Bob's Wild Horse Tours! All tours are given in the comfort of an air-conditioned vehicle. The trucks can accommodate up to 15 people, as well as car seats for small children. On your tour, you'll learn all about the history of the Outer Banks, local tales and legends, information about the wild horses, and more. Take advantage of this opportunity to experience the natural beauty of the northern beaches. (252) 453-8602; Address: 817-B Ocean Trail, Corolla, NC
4. Corolla Jeep Adventures
Are you looking for a thrilling off-road adventure? Bring the whole crew and buckle up, because Corolla Jeep Adventures is sure to take you on a wild ride! Enjoy the fresh ocean breezes as you explore more than 25 miles in your custom safari truck. Learn local ecology, often overlooked by an untrained eye, from your guide and see wild horses, the rural beach communities, and a lot of nature. (252) 453-6899; Address: 1070 Ocean Trail, Corolla, NC
5. Corolla Outback Adventures
A leader in the field, Corolla Outback Adventures has been offering "outback" tours for 50 years. This tour company also has private access into the Wild Horse Conservation Easement, which is situated on a beautiful and secluded stretch of land. Experience a memorable 2-hour round-trip drive in the 4WD area up to Carova Beach. Don't forget to bring your camera! Filled with picturesque scenery, you'll find many photographic opportunities along the way. (252) 453-4484; Address: 1150 Ocean Trail, Corolla, NC
6. Corolla Wild Horse Tours
Another family-friendly option, Corolla Wild Horse Tours offers 15-passenger open-air trucks that are safe for any age. Kids in car seats are welcome! Enjoy the ride while your expert guide tells you about the history of Corolla, the wild horses, and the North Carolina Beaches. (252) 207-0511; 1210 Ocean Trail, Corolla, NC
7. Wild Horse Adventure Tours
See the wild horses of Currituck in an entirely new way: cruise through the Corolla "outback" in a luxurious open-air Hummer with Wild Horse Adventure Tours. No two hours are ever the same so if you enjoy history, nature, and a quick-witted friendly guide, then prepare yourself for a fun and memorable adventure. Now with exclusive rights to the Wild Horse Sanctuary in Swan Beach, this is an experience like no other.
Take advantage of our Wild Horse Adventure Tours coupon! Guests of Paramount Destinations can receive a $5/person discount for Wild Horse Adventure Tours! Just provide the discount code in the Hospitality App before booking your tour online. Certain restrictions apply. (252) 489-2020; Address: 610 Currituck Clubhouse Drive, Corolla, NC
Other Things to Do in the Outer Banks
---
After you see the wild horses of Corolla, make sure to check out these other great tours and family-friendly attractions in the Outer Banks!
Plan The Ultimate Outer Banks Vacation With Paramount Destinations!
---
Now that you know about all of the best Outer Banks wild horse tours, it's time to start planning your trip! Known as one of the best lodging options in the Outer Banks, Paramount Destinations offers the ideal accommodations for your stay. We offer a wide selection of vacation rentals located in Corolla, Duck, Southern Shores, and The Currituck Club. Whether you're searching for a dog-friendly rental, a home with a private pool, or an oceanfront property, we are sure to have your perfect home-away-from-home.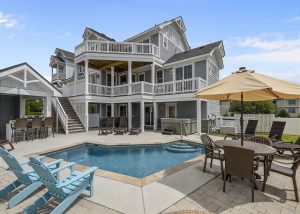 Located in The Currituck Club, Sandy Toes & Salty Kisses would be an excellent choice for your next family vacation. This spacious home can comfortably accommodate 29, providing endless opportunities to relax and reconnect with your loved ones under one roof. Enjoy sweeping views of the ocean and Currituck Sound from the top floor, gather for a meal in the enormous dining room, or lounge by the private pool and outdoor bar. The possibilities are endless!
Browse all available properties and book your Outer Banks getaway with Paramount Destinations today. We look forward to seeing you soon!