Reel in the catch of a lifetime during your trip to the Outer Banks! Whether you're a beginner or an experienced angler, our guide to deep sea fishing in the Outer Banks is here to help you land your biggest catch yet!  
Make the most of North Carolina's outer banks by spending the day experiencing world-class sportfishing. Then, retreat to one of our cozy Outer Banks vacation homes to relive your fishing tales with your friends and family over and over again!   
You can take all the guesswork out of planning your trip with our free Vacation Guide full of dining, events, activities, entertainment, and outdoor recreation tips for you. The only planning you'll have to do is pick what fishing charter is right for you! 
Everything You Need to Know About Deep Sea Fishing in the Outer Banks
Options for Deep Sea Fishing in the Outer Banks 
There are so many ways to experience fishing in the Outer Banks. If you're looking for the best deep sea fishing experience, then booking a fishing charter is your best bet. However, if you've got angling experience, the Outer Banks local businesses offer everything you need to plan your solo fishing trip. 
Whether you plan to go on your own or are preparing for your charter excursion, stop by a local tackle and bait shop for everything you need, from a fishing license to fishing gear. You're required to get a fishing license for saltwater fishing in OBX. If you need to purchase one, you can buy one online or from a local tackle shop. Children under 16 are exempt. However, if you plan to use a charter company, most boats have a blanket license that covers all anglers on board. Make sure to check with the company before you go!  
If you choose to rent your fishing boat, a few local businesses in Ocracoke Island offer anglers hourly or daily boat rentals. If you plan to charter a boat and hire a guide, they will have all the equipment you need, including rods and reels, lures, line, tackle, bait, and hooks.  
You have two options for chartering a boat. An offshore charter trip usually lasts for a full day, while head boat trips typically go out for half the day. Either way, you will need to book ahead!  
Book an Offshore Fishing Charter in the Outer Banks 
Offshore charters are typically located on the coastline about 15-20 miles outside the Gulf Stream. Charter boats are close to the inlets, so they have easy access to the ocean.  
Hatteras, Ocracoke Island, and Oregon Inlet are usually the launching points closets to the Gulf Stream. Most fishing charts launch from marinas or fishing centers like Oregon Inlet Fishing Center, the docks in the Wanchese on Roanoke Island, and the docks of Hatteras and Ocracoke villages. However, there are no inlets on the northern Outer Banks, so there are no charter boats there. 
Outer Banks high sea fishing charter prices vary whether you go for a half or full day. Typically, charter boats take out six people. If you plan to do a full day, you can book an offshore charter through one of the local marinas, and the price is usually around $1,500 plus a 15-20% tip for the First Mate. The captain supplies all the fishing gear, and the mate offers instruction as you go.  
If you have others who would like to join, you can split the cost since it is pricey. Just make sure your crew is ready to get going before daylight! This is a great option if you're planning a men's fishing trip to the Outer Banks! Charters usually leave between 4:00 a.m. – 6:00 a.m. because it can take about an hour to reach prime fishing spots, and you want to arrive at peak feeding hours. Be prepared with food, drinks, sunscreen, and any anti-nausea medicines you might need.  
Set Up a Head Boat Fishing Trip in the Outer Banks 
If you choose to embark on a Head Boat Fishing excursion, be prepared to head out with many people at once. Head boats usually provide half-day trips. It's excellent for beginners or those traveling without any equipment. This is a great option to bring the kids because restrooms and snacks are provided. Typically, head boats bring you bottom-fishing either in the sound, nearshore ocean waters, or wrecks off the shore of the Outer Banks. They also provide bait and tackle, plus a helpful guide.  
Pro Tip: Bring anti-nausea medicine! The Gulf Stream waters can be pretty rocky!  
What You Can Expect to Catch in the Outer Banks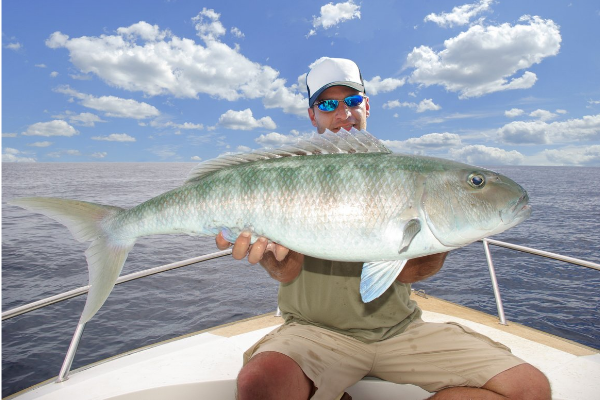 Set sail for the Gulf Stream, and you'll encounter a variety of Outer banks fish species. Depending on the season and migrations, schools of popular sport fish make their way through Gulf Stream waters! While you're offshore fishing, you'll most likely catch white marlin, blue marlin, sailfish, yellowfin tuna, wahoo, cobia, or tuna dolphin.  
The most common large fish in the Gulf Stream include:  
Mahi-mahi

– Also known as dolphins, typically range from 10-50 pounds all year long but are more common in the summer.

 
Tuna

– Yellowfin tuna appear in the waters all year long. In mid to late spring, you have the chance to catch yellowfin anywhere from 15-75 pounds.

 

Amberjack

– These fighters can be found around wrecks or structures lodged in the Gulf Stream.

 

King Mackerel

– These fish can be caught sporadically throughout the year, but usually best in the fall when they're between 20 – 40 pounds.

 

Wahoo

– They're known as prize fish because they're quick, hard to find, and challenging to reel in because of their razor-sharp teeth. 

 
When to Go Deep Sea Fishing in the Outer Banks
There's no wrong time to go fishing in the Outer Banks. The waters are always filled with various types of fish. So, you can plan your trip around what you'd like to catch! The summer months make up most of the area's tourist season, so you'll want to book months in advance.  
If you're planning to make a winter deep sea fishing trip in the Outer Banks, make sure to check the weather. Wind and wave conditions can change within minutes! Even though most charters are flexible, you'll want to consider year-round conditions when planning. The best wind conditions are when the winds are 15-20 mph.  
The Best Outer Banks Deep Sea Charters
Northern Outer Banks Deep Sea Fishing Charters 
OBX Marina |Wanchese, NC  
A 10-boat fleet offers half-day, ¾-day, and full-day offshore fishing!  
Oregon Inlet Fishing Center | Nags Head, NC  
A full-service marina, home of the largest and most modern charter boat fishing fleet on the eastern seaboard.  
Pirates Cove Marina | Manteo, NC  
Home of the world's finest and most experienced charter fleet guaranteed to make lasting memories! 
Shallowbag Bay Club Marina | Manteo, NC  
A 57-foot-long custom Carolina sport fisher with the latest electronics, tackle, and most experienced crew in the area.  
Wanchese Marina | Wanchese, NC   
One of the finest fleets of professional charter fishers and charter booking services. Grab breakfast, lunch, or dinner at the Landing Restaurant and check out Ship's Store for ice, drinks, and snacks. 
Hatteras Deep Sea Fishing Charters
Albatross Fleet Marina | Hatteras  
Set in the heart of Hatteras Village between Oden's Dock and the Village Marina, you can charter half or full-day charters from one of the three Albatross offshore vessels.  
Hatteras Harbor Marina | Hatteras  
A full-service marina with a 24-boat charter fleet that offers offshore and inshore fishing trips all year long. Their Harbor Deli has sandwiches, snacks, and drinks for sale to stock your cooler for your trip!   
Hatteras Landing Marina & Teach's Lair Marina | Hatteras 
Two full-service marinas that offer half or full-day wreck fishing trips through the crystal-clear waters of the Gulf Stream! Drop by after your trip to have your catch of the day prepared for cooking!  
Oden's Dock | Hatteras  
Home to many charter boats that offer custom charters, head boating fishing, and more!  
Outer Banks Tackle Shops 
Outer Banks bait and tackle shops carry everything you need for a day out on the water, from coolers and sunglasses to crankbaits and spinning reels.  
Pro Tip: Don't forget sunglasses, sunscreen, and U.V. protection apparel! 
Corolla Tackle Shops 
Duck Tackle Shops 
Nags Head Tackle Shops 
Find Your Outer Banks Oasis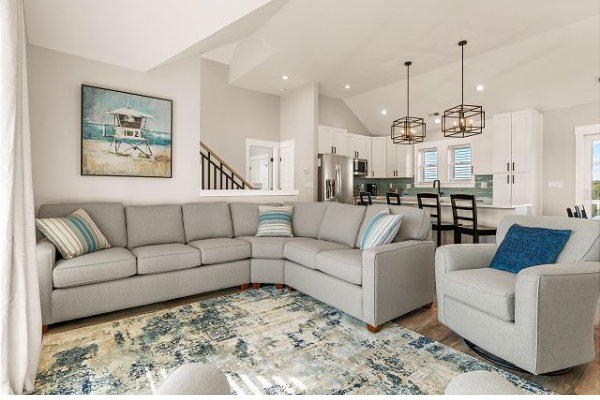 After a long day offshore, there's nothing better than coming back to a place that feels like home! Check out what our Outer Banks vacation rentals have to offer, from private pools to hot tubs and ocean views! We also offer rentals in a variety of convenient locations like Corolla, Currituck Club, Duck, or Southern Shores.  
Are you ready to discover what deep sea fishing in the Outer Banks has to offer? Start planning your adventure by browsing a complete catalog of our Outer Banks vacation rentals!