Dreaming of a romantic getaway? Treat your loved one to a swoon-worthy Valentine's Day in OBX! Although the temperatures range from 40 to 50 degrees in February on the Outer Banks of North Carolina, there is plenty of sunshine and lots of romantic activities to heat things up! 
Check out our free Vacation Guide for more local things to do during your romantic getaway! From restaurants to spas, you can find an activity that both you and your special someone will love.
Plan Your Romantic Adventures for Valentine's Day in OBX
Whether your couple style is laid back or adventurous, the Outer Banks of North Carolina have something for everyone! Even though February is the offseason for this tourist area, it's one of the best times of year to visit OBX since fewer crowds mean more opportunities for adventure!  
Start Your Day Together on the Shores of the Outer Banks
A true Outer Banks Valentine's Day starts with waking up together to the beauty of OBX. Grab two cups of coffee, head to your favorite spot on the beach, and cozy up in a blanket together to watch the sunrise! What could be more romantic than seeing the sun rays dance on your sweetheart's face in those early morning hours?  
After the exhaustion hits from getting up at the crack of dawn, unwind with one of the best Outer Banks couples massages. Indulge in relaxation with each other with a Swedish or hot stone massage. Then, head back to your vacation home to enjoy a nap together before your next adventure!  
3 Adventures for Valentine's Day in OBX
Have a Once in a Lifetime Hang-Gliding Experience Together
Get ready to fly together! If you're an adventurous couple, this is one experience for the books! Be prepared to get a running head start when you and your loved one tandem hang glide in Kitty Hawk! What a way to get an amazingly different view of the Outer Banks coastline and the Currituck Sound.  
Embark on a Romantic Horseback Riding Tour Among the Wild Horses That Roam the Shore
If hang gliding sounds a little too adventurous for you, plan a romantic afternoon horseback riding on the beach. Embrace the opportunity to see wild horses roaming along the shore when you book a tour in Corolla. It's such a creative date idea that your loved one will remember for years to come!  
Enjoy Your Afternoon Sipping Local Wine at One of Our Beautiful Outer Banks Wineries
Maybe your idea of an adventure is indulging in local wine while snuggling up to your sweetie. The OBX Winery is located right on the Outer Banks and is known for its small-batch boutique wines. If you want to explore a little further, you can visit Sanctuary Vineyards in Jarvisburg, NC. There are also plenty of local OBX breweries that you can both enjoy! 
End Your Night Right This Valentine's Day in OBX and Let the Fun Begin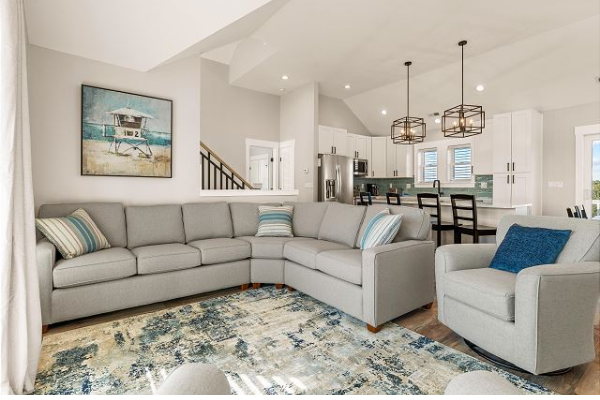 Why not take advantage of Valentine's Day in OBX this year? Cuddle up with your sweetie in one of our cozy vacation homes and plan a romantic stay-in dinner with fresh local seafood, then head downstairs to your very own game room or hot tub!  
Hurry! Book your romantic getaway before it's too late!