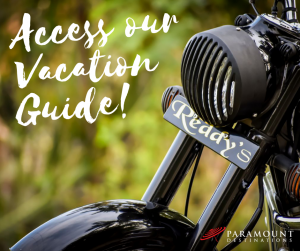 Rev your engines and get ready to ride! The Outer Banks Bike Week is one of the most exciting bike weeks to occur on the East Coast, in April, each year. Dedicated motorcyclists and bikers from all over hop on their Harleys and make the trek to the beautiful barrier islands off the coast of North Carolina. What's better than feeling the saltwater breeze on your cheeks as you make your way along the coast? Participate in bike shows, guided tours, and live entertainment all week long! While planning your OBX vacation, be sure to check out our free Vacation Guide for more fun ideas to include in your itinerary!
Discover the

best Things to do at

Outer Banks

Bike Week
"Love is the feeling you get when you like something as much as your motorcycle."  — Hunter S. Thompson
Thrilling Bike Shows
Show off your prized choppers, cruisers, and hot rods at the Outer Banks Bike Week's exciting bike show! In addition to potentially winning prizes, you can also mingle with bikers from all over and get to know other like-minded individuals! This highly anticipated annual OBX event is a fun way to share your love of riding with others.
Guided Tours & Poker Runs
Participate in one of the guided bike tours and explore over 100 miles of scenic barrier islands on the back of your motorcycle! Local enthusiasts can lead the way to all the best views and to participating bike-friendly businesses! You can also take part in a poker run where participants must visit five to seven checkpoints and draw a playing card at each one. The one with the best poker hand at the end wins!
Lively Entertainment
This 9-day event offers a wide range of exciting entertainment to appeal to motorcycle enthusiasts of all kinds! Feast on Carolina seafood and barbecue from a good ol' fashioned pig pickin'! Some of the best local restaurants and businesses provide delicious eats and goods for all to enjoy. Additionally, you can attend a number of rockin' outdoor concerts, participate in exciting tattoo and bikini contests, and browse unique wares on display! With over 100 vendors to supply the goods, you're bound to find a souvenir (or five) to bring home from your trip!
You don't want to miss out on one of the best things to do on the Outer Banks in April!
Where to Stay During Your OBX Vacation
We know the perfect place to park your Harley and rest your head during the Outer Banks Bike Week! Paramount Destinations offers an impressive selection of vacation rentals in Corolla, Duck, and Southern Shores! Stay on the beach or opt for a home that resides within an esteemed community such as the Currituck Club! Our vacation rentals make the perfect home away from home during your OBX vacation. The best part? You'll be near so many amazing things to do! Start planning your trip today!