If you're planning to rent out a property, it's important to weigh your options. Doing it yourself can be quite a challenge. Read on to learn more about the many benefits of going through a professional property management company for your Outer Banks vacation rental. There are so many ways in which that company can increase your revenue, appease your guests, and help you manage your property. 
If you're interested in working with Paramount Destinations, visit our Property Management page for more information. 
---
3 Benefits of Going Through a Professional Property Management Company for Your Outer Banks Vacation Rental
1. Maximize Your Revenue 
Years of experience, expert staff members, and top-tier marketing efforts help us to achieve revenue goals. We utilize various avenues for revenue generation, such as: 
A User-Friendly Website
Our easy-to-navigate website makes it so that potential customers can discover your property by searching specific amenities (pet-friendly, elevators, private pools, etc.), areas (Duck, Corolla, Southern Shores, etc.), and other features.  
Social Media Presence 
Social Media is an important marketing tool. We stay connected with our guests and attract potential customers by sharing property features, destination highlights, and more. Visit our Facebook page for more insight. 
Email Marketing 
Email marketing is one of the easiest ways to generate leads and bookings directly. Each month we send out a couple of emails that feature specific properties, special deals, local news, and more. 
SEO-Focused Content Creation 
A digital marketing team helps us streamline our website content and highlight essential SEO topics to attract traffic from Google searches organically. 
2. Better Guest Experience 
Having a local property management company on your team allows for a better guest experience. Our maintenance team cares for vacation rental property by anticipating issues, tracking repairs, and following-up on all aspects of maintenance year-round. 
3. Less Pressure on You
Managing a vacation rental is hard work. Knowing that you have an entire team of highly-trained professionals behind you makes things a little bit easier. 
---
Paramount Destinations Is the Best Professional Property Management Company on the Outer Banks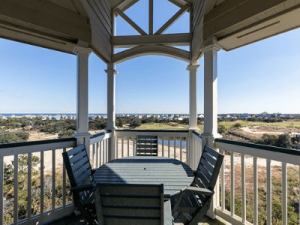 Are you ready to take the next step? Paramount Destinations is the best professional property management company on the Outer Banks. We recognize how vital your property investment is, and we aim to help you maximize your returns. We manage each home as though it is our very own, with lots of care and attention to detail. Together, we strive to exceed guest expectations, creating lasting relationships with clients, and fill your availability. 
---