It's never too early to make vacation plans for the holiday season. However, eventually, it'll be too late! Switch things up this winter, and plan now for your holiday accommodations on the Outer Banks of North Carolina. The Outer Banks is a gorgeous destination to spend holidays like Thanksgiving or Christmas because the mild weather is perfect for almost any activity. Travel bookings on the NC coast are typically less popular during the winter months compared to summer, meaning you'll be able to find lower rates and fewer crowds. That way it's easier to enjoy time with your family and friends.  
For a list of great places that you should add to your holiday vacation itinerary, make sure to check out our free OBX Vacation Guide! This useful tool offers insight into the best restaurants, museums, outdoor recreation, shops, and events around the Outer Banks!

Things You Need to Know to Plan Now for Your Holiday Accommodations on the Outer Banks 
Things to Do on the Outer Banks During the Holiday Season
The OBX offers an array of events during the holiday season between November for Thanksgiving and December. Here are some of our favorite annual events and festivals to check out:  
Annual Beach Food Pantry Holiday Chef's Challenge 

 

Duck Yuletide Celebration 

 

New Year in the New World 

 

Travel Insurance 
Unexpected events can occur, and it's essential to plan ahead. We recommend purchasing travel insurance with your vacation rental reservation.  
Once your travel insurance is accepted, you'll be able to receive refunds on prepaid fees, covering issues that would otherwise cause financial loss, like sickness, hurricanes, mandatory evacuations, road closures, school year extensions, employer termination, among occurrences.   
The Best Holiday Accommodations on the Outer Banks
Many locals will book larger accommodations with us over the holidays to spend time with family and friends in a space large enough for everyone. If you have a large family or want to entertain a large circle of friends, we have the perfect holiday rentals for you. At Paramount Destinations, we know the finer details of what it takes to please a crowd.  
If you haven't decided how you're going to spend the holidays this year, now is a good time to do that. Many people who spend their summer vacation with us will return over the holidays for a memorable getaway. Whether you come alone, with your immediate family, or agree to have everyone meet here after traveling from various parts of the country, you can expect a phenomenal holiday experience!  
Our holiday rental properties on the Outer Banks are both spacious and priced right. Adorned in beach decor, they are fully furnished and are ideal as the ultimate entertaining space. Kitchens in many of our vacation homes are larger than what many of our guests have in their own homes, taking the squeeze out of preparing a holiday meal.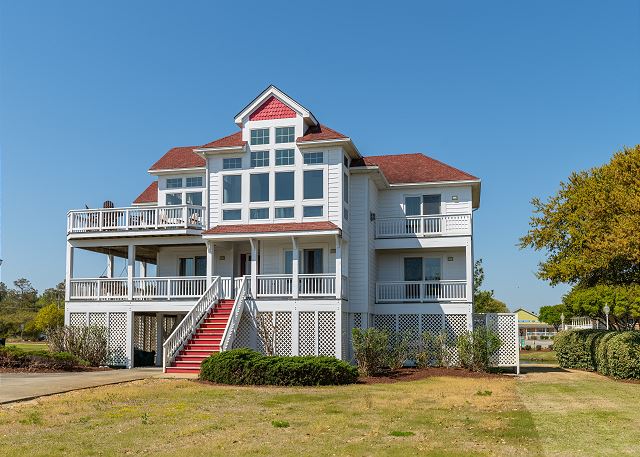 Make this one of the best Thanksgiving or Christmas holidays you've ever experienced! Get in touch with us at Paramount Destinations and let us help you secure the perfect holiday vacation rental for whatever size your family is. You can reach us by calling 866-753-3045 at your convenience.  
Check our availability
 and book your holiday stay on the Outer Banks today!